Get Intel's Core i5 13600K CPU for £302 at Amazon UK
One of the fastest gaming processors at a near-historic low.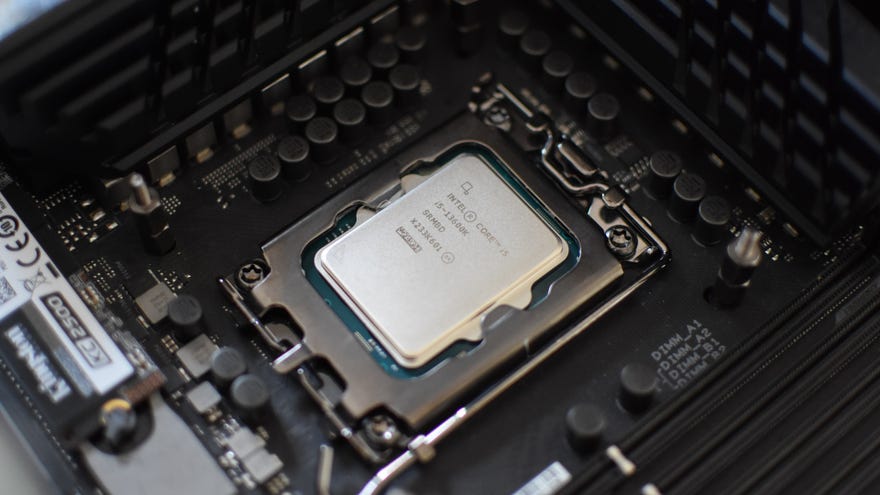 After debuting at £320, the Core i5 13600K has remained resolutely at that price thanks to limited supply and high demand. Now, the 13600K has seen its first major discount, dipping to around the £300 mark at Amazon UK. Meanwhile, the same CPU without integrated graphics, the 13600KF, is down to £281.
These are solid deals for a great-performing 14-core, 20-thread CPUs that excel in gaming and content creation - especially given that you can pick up a motherboard that allows you to carry over the DDR4 memory in your existing build to keep costs down.
The interesting thing about the 13600K is that it's the cheapest Intel CPU that includes the new Raptor Cove performance cores, which perform significantly better than the Golden Cove cores that are used in the lower-tier 13th-gen and all 12th-gen parts.
There's plenty to like here, a sentiment reflected by James in the official RPS review of the 13600K who dubbed this CPU the "mid-range champion" of Intel's latest lineup. The 13600K manages around 40% better multi-core performance than the 12600K and up to 16% better gaming frame-rates (in AC Valhalla) according to the RPS results.
I saw similar results in the Digital Foundry 13600K review, with anything from 5% to 20% faster frame-rates at 1080p. If you're coming from the 11600K, it's more like a 40% margin.
Overall then, this is a great deal and well worth considering against more expensive CPUs in both Intel and AMD's current lineups. The simple truth is that at 1440p and 4K, the 13600K is going to be equivalent to pretty much anything else in the majority of games - so there's no reason to spend more than £300!