Gone Vroom is Gone Home but you are a car for some reason
Start your Unity engines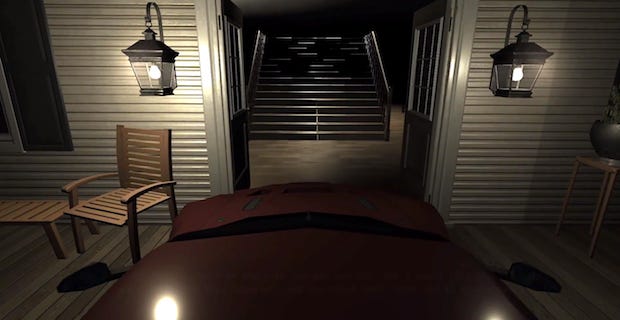 There's not much of a need to add to this news hit. Today, on the ole Itch.io site, I stumbled upon yet another great Ludum Dare 41 entry. If you remember, 41's theme is two game genres that should not be compatible. Jon Remedios took this to one of its most bizarre conclusions: that the walking simulator genre requires a good driving simulator that is not, itself, a driving simulator but rather a walking simulator where you are a car. If you think it sounds like that might not work, well, you'd be right. Especially if that car if forced to experience life trapped within the walls of the rural Oregon home of the Greenbriar family. That's right. It's Gone Home but you're a car. You're a car in the Gone Home house. Welcome to Gone Vroom.
Jon and his wife did the VO on this. "Yes, I did spend money to make this," the developer brags on the game page. I guess no one told him to pump the breaks.
"What in the world lol" -- Steve Gaynor, one of the creators of Gone Home
You can download Gone Vroom and dig into its emotional mystery for free. Right here, right now.
If you don't have time to fire this up, I recommend this Let's Play video:
Remember, DORKLY did fix the game previously by finally adding a gun to it. Gun Home was the definitive version of Steve Gaynor's vision... until now.