Watch Hearthstone Stream Reveal New Cards In 1 Hour
The Grand Tournament is close to opening.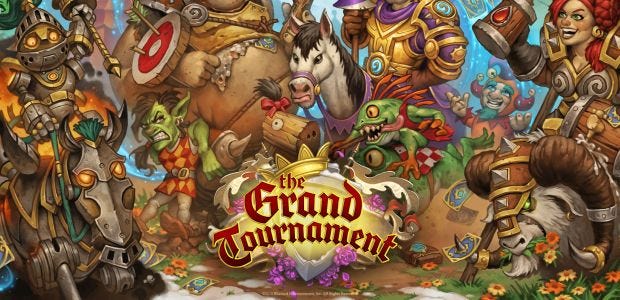 Hearthstone's latest expansion The Grand Tournament [official site] is just around the corner, with a confirmed release date of some time this month. There isn't a whole lot of month left, so a livestream tonight will reveal a heap of new cards and probably a release date. Were I a guessing man with a platform to turn that guess into news, I'd bet the coming downtime on Tuesday/Wednesday is patch-day. Watch the stream below live at 6pm Brit-Time, 10am PDT and we'll update this post with any news that comes to light.
Every card from the expansion will be revealed today between the stream and the Facebook page afterwards.
There are a number of new tribal cards in the expansion, including Dragons, Pirates and Murlocs.
No release date was revealed, that's me shown. To make another gamble I can't cash, that would suggest it isn't next week as they would probably know by now if it was.