Grand Theft Auto V's Shiny New Ill-Gotten Gains
The prettiest motorbike ever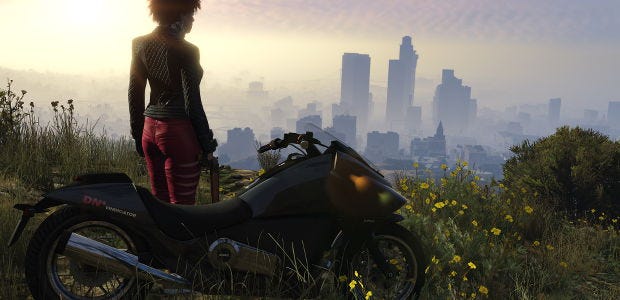 Swanky new clothes, cars, boats, guns, and other ostentatious displays of wealth and violence are now up for grabs in Los Santos, as Rockstar today released the second part of the free 'Ill-Gotten Gains' update for Grand Theft V [official site]. The first half arrived in June with some deeply tacky clothes and ghastly golden vehicles. I swear, money's wasted on the rich - no taste at all.
This second half, however, does have some pretty nice stuff. The new motorbike in particular is flipping gorgeous, cor, just take a look at that up there!
Rockstar say that new Dinka Vindicator motorcycle has "a kinetic energy recovery system (KERS) that stores energy from braking and delivers a burst of speed on activation." Does that mean turbo boost? I think it means turbo boost. I want one. Matte black, thanks.
Today brought that and four new cars, one new wooden motorboat, new horns, and new weapons in the form of the single-shot Marksman Pistol and the knuckle dusters - which come in nine variants. All that stuff is available in both the story mode and GTA Online. Some new stuff is only for the Online side too: 15 new tattoos and hundreds of items of clothing.
Check these two Rockstar blog posts for pictures and more info on some of the new things. The patch notes for version 1.28 also detail a load of bug fixes fixes, if you're curious.