Gwent launches drafty Arena mode
Get drafted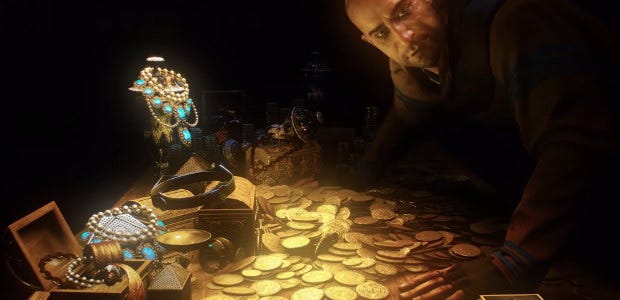 That cheery fella Gaunter O'Dimm is back with another dark pact for us to sign, this time for the new Arena mode added today to Gwent: The Witcher Card Game. Arena mode bends the rules of Gwent, having players build decks from a random selection cards across all the different factions then fight through a gauntlet of opponents hoping to grab the biggest prize. It's not quite the draft mode some expected, but it's sorta close. Arena isn't free to enter, requiring a ticket purchasable with the in-game currency of Ore or real cash. Developers CD Projekt Red are offering players three tickets for free to get started, at least.
Right so, Arena mode will have you build a deck from random choices, putting a 26-card deck together one pick at a time. With each pick, the game will present a random selection of four cards--from across the game, all factions, whether you own the card or not, and with no limit on how many copies of the same card you can have--and let you pick one, and so on and so on. Every player's drafts are separate, mind, not pulling from a shared and depleting card pool as some had expected or hoped for.
Then off you go into the gauntlet of the Arena. Each Arena run ends after nine wins or three loses, whichever comes first, and offers greater rewards as you win more.
It'll cost you, though. Entry requires redeeming one Mirror Shard (Gaunter O'Dimm, aka Master Mirror, is in charge of the Arena). These cost $1.99 in real money or 150 Ore, the virtuacash earned by playing. One of the game's 'Keg' card packs costs 100 Ore, for reference. CD Projekt Red are offering a taste for free, giving 3 Shards to players who log in by March 7th.
See the patch notes for more on today's open beta update.
The patch has brought troubles too. Some cards went missing from players' collections. Other players have reported managing to take Arena decks out of the mode and into regular play, where they can be wildly overpowered. It's a little embarrassing consider that only last month the dev team apologised for launching updates with insufficient testing. The game might still technically be in beta, but CD Projekt Red are charging money for microtransactions.
If you fancy some Gwent, hit GOG. It's free-to-play.
Here, this other new video explains more about Arena: