Hard Graft: The Making Of Deus Ex HR's Titles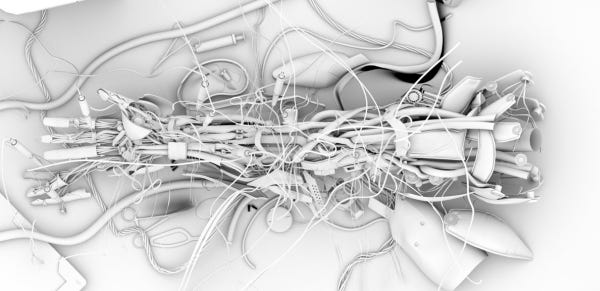 It's starting to feel like intro day here on RPS. Art Of The Title have just concluded their first gaming title sequence dissection, cracking the chest of the appropriately surgical opening of Deus Ex: Human Revolution. Production company Goldtooth Creative Paul Furminger's discusses the scene's grand theme: "The original concept was a descent from the macroscopic to the microscopic and from the organic to the mechanical. We started working on storyboards and animatics that began with the gruesome reality of Adam's beaten body and ended with the sublime perfection of veins and circuitry combining at a microscopic level." Man, I regret skipping it now.

Whether you want to know about the technical aspects or the intended emotional impact, it's an illuminating read. For example: watching it just there, my brain presumed it was all CGI, but as Furminger points out, that's not the case at all: "On the first morning, we shot all the love scenes with our Megan and Adam lookalikes. In the afternoon, we put Adam on our futuristic operating table and got all of the surgery shots. On the second day, we shot all of the still elements, the pyro/effects plates, and we did the more serious operation shots – for example, we shot the circular saw cutting into the fake human body on the second day."
In fact, as Furminger tells it, it's a whole mish-mash of mixed media, combining CGI live-action and photography to bring the resurrection of Adam Jensen to life: "In the final sequence, there are 25 shots, not counting the title cards. Of those 25 shots, 14 are live action, 9 are computer-generated, and two were created in motion graphics using 2D animation on stills and photographed elements. The laser shot, for example, was entirely created from one still of a horse tranquilizer that we shot on our second day. The still was modified in Photoshop and then animated in After Effects."
I love Art Of The Title's singular obsession, and I'm really excited that they're turning those big brains on games.