Have You Played... Zerstörer?
Feel huge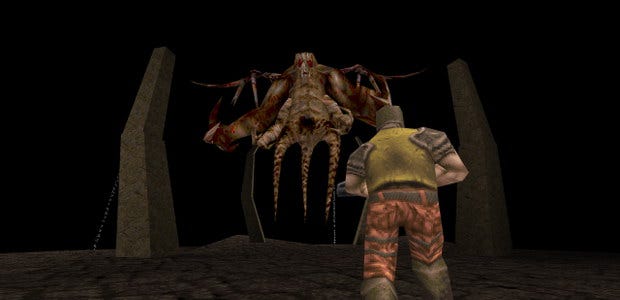 Have You Played? is an endless stream of game retrospectives. One a day, every day of the year, perhaps for all time.
I'm going to keep doing mods for a while because: 1) I struggle to remember what happened yesterday; 2) Unable to afford many new games, for about a decade I mostly played mods - many, many mods. Of the many mods I played from cover discs off cheery RPS fanzine PC Gamer, the Quake singleplayer campaign Zerstörer - Testament of the Destroyer was the first that felt like something I should've paid for. "Professional quality," we said back then, with very specific ideas of what that meant.
Zerstörer feels like the official Quake mission packs - a new episode, some new enemies, some new/alternate weapons and power-ups, and a few fancy technical features (ooh! cutscenes! in Quake!). And like them, it's... Quake but not Quake. When you've played a game a squillion times, the small changes seem massive - make it seem huge. The level design isn't id, the new enemies work in ways that feel un-Quake, and look, I'm making a big deal about this.
One overly-complex huge level aside, Zerstörer is good and fun and exciting. Then, at the end, rather than defeating an elder god you just die. It was a pretty surprising twist at the time but I don't know what else I'd expect from a team named Nihilism Unlimited.
I suppose I'm quite interested in how small changes can feel huge with mods to familiar games. I remember being blown away by the Cujo mod adding a dog buddy (who even licked gibs!), when a game which had a dog from the start would be... actually, no, the dog in the Dead to Rights games are still hilarious and wonderful. But I was fascinated by mods like a new weapon letting me beat familiar encounters in new way, a grappling hook showing the world from new angles, and so on. I feel I'm missing out by playing so many different games now, no longer getting to know any one game inside-out and back-to-front.
If you want to play, you'll need Quake, Zerstörer, and Zerstörer patch 1.1. I'd recommend the updated engine Quakespasm, and always remember to set GL_TEXTUREMODE GL_NEAREST for that hard-edged software mode feel.