Hearthstone's Journey to Un'Goro now out
S-s-s-sharptooth!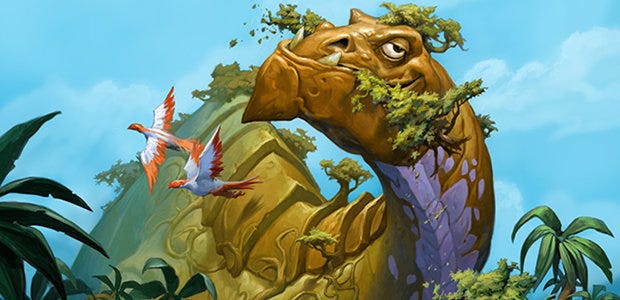 Way down deep in the middle of a Hearthstone, Blizzard took a Ravasaur, Razorpetals, and a Tar Lord. They stuck 'em in a crater and they danced a dainty tango.
Mike Morhaime said, "I know, we'll call it Un'Goro!"
Un'Goro, Un'Goro,
A primeval jungle.
Ben Brode built a beatdown deck, Didier drew a Devilsaur.
Bob Fitch flung the packets that the whole caboodle networked in.
So when it comes to sun and fun and goodness in the jungle,
They all prefer the sunny funny one they call Un'Goro!
The Journey to Un'Goro expansion for Hearthstone [official site] is out now, y'see.
Blizzard say they released this fifth Hearthstone expansion yesterday in somewhere called 'America'. America? I hardly knew 'er! But today's the launch in Europe and Asia.
This 135-card expansion adventures into the Un'Goro Crater to meet dinosaurs, elementals, and bitey flora. It also introduces Quests, a new type of card which offer mighty rewards if you can meet specific conditions. A new card ability comes in Adapt, which lets players choose from a selection of offensive and defensive buffs.
Full card listings are on Hearthpwn, the Hearthstone wiki, and so on.
The release of Un'Goro also kicks off Hearthstone's second Standard format year, the Year of the Mammoth. Like Magic's Standard format, this is a type of play with is cheaper and easier to get into because it only uses cards from the core sets and recent expansions.
With this new year, cards from Blackrock Mountain, Grand Tournament, and League of Explorers are leaving Standard. They're still in the footloose and fancy-free Wild format, mind. Also shuffling to Wild are six powerful Classic cards -- Azure Drake, Sylvanas Windrunner, Ragnaros the Firelord, Power Overwhelming, Ice Lance, and Conceal -- which are being named 'Hall of Fame' cards.