Hearthstone's Grand Tournament Expansion Now Live
132 new cards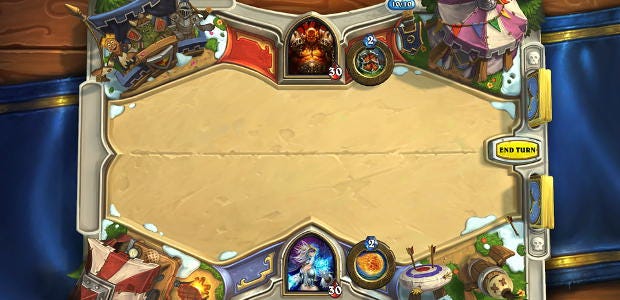 It's only a game, yeah? Important to keep perspective, innit? While Warcraft-y things go all po-faced with lore and guff, Blizzard's Hearthstone [official site] just wants to lark about, drink, and engage in a little friendly rivalry. Blizzard have just launched the free-to-play collectible card game's second expansion, named The Grand Tournament.
The Big Knockout introduces 132 new cards themed around The Merrye Olde Showdowne, as you can see in this here card listing.
Some of those include a new card ability, named inspire. Blizzard explain it thusly:
"Minions with the inspire keyword possess a special ability that may only be activated by using your Hero Power. Deploy them in force to gain tremendous value, or drop them at just the right time to give your play the perfect boost. Can you really inspire an ogre? Absolutely! It just takes finesse (or a ham)."
Handy stuff, I'm sure.
As ever, you can get your hands on Grand Tournament card packs with either in-game virtuacash or Blizzard's premium money. They'll also be available as Arena rewards, as Arena battles can now reward either Classic, Goblins vs Gnomes, or Grand Tournament packs - weighted towards The Grand Tournament.