Hearthstone Expands Into Blackrock Mountain Next Week
Twist! Twist! Stick!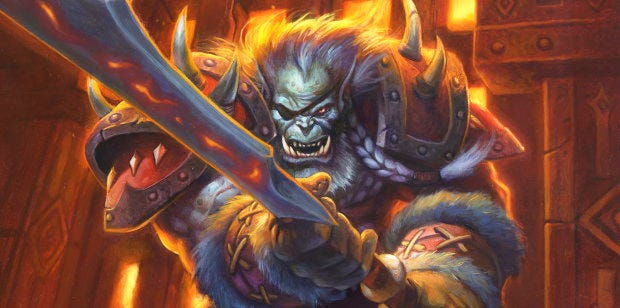 It's a terrible compulsion, the drive to catch 'em all. You might be cock of the walk in Hearthstone [official site] right now, but it's soon to get a burst of new cards and what will you do then? I hope you've been saving your pennies (real or virtual) as Blizzard have announced the free-to-play collectible card game's Blackrock Mountain expansion will launch next Thursday, on April 2nd.
It'll bring five new wings of raiding inspired by the classic World of Warcraft zone, a volcano swarming with naughty dwarves, orcs, dragons, and fire elementals. What this means for you is single-player missions along with new challenges and 31 extra cards.
Like the Curse of Naxxramas add-on, Blackrock Mountain is split into five 'wings' that'll open up over successive weeks. Here, Blizzard have been gradually revealing the one two three four five wings along with challenges and cards found within them.
(Technically Blizzard classify Blackrock Mountain as an 'Adventure' rather than an expansion, differentiating add-ons with new raids like this and Naxxramas (Adventures) from the cardsplosion of Goblins vs. Gnomes (Expansion). Just so you know. Okay.)
You'll be able to buy access to wings with the virtual currency earned by playing - 700 gold each - or for $6.99 of real cash. Buying all five at once is $24.99, and neatly you can still get discounted bundle prices if you've unlocked any wings with gold.
Here's a curiously sing-songy cinematic trailer for Blackrock Mountain: