Hearthstone's Removing A Bunch Of Cards From Arena
House of cards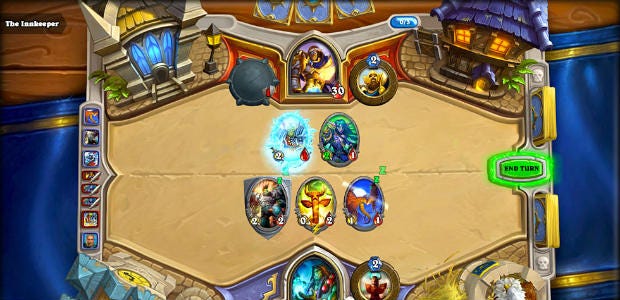 Designing a game is a fine balancing act, and Blizzard is working to make sure that Hearthstone [official site] is perfectly even and fine-tuned on all counts. There have been some concerns that certain classes are significantly overpowered in the game's Arena mode. Associate game designer Dean Ayala says:
"Variety among all game modes is important to us, but an equally important goal is to have a wide range of experiences within each game mode . . . When you first enter Arena and are offered the choice of three different classes, our goal is that you can look at those choices and choose any class without feeling disadvantaged because of their difference in power level."
It certainly makes things less exciting when you only have two or three viable classes to choose from if you want to have any sway in the competition. So how do we fix it?
Very carefully, it turns out. The developers don't want to remove high-powered weapons and spells, as they add the all important element of surprise, keeping players excited and on their toes. Nor do they want to remove popular cards that are staples for players at all skill-levels. Instead, Blizzard plans to remove "lower-performing" cards to ensure that more familiar cards pop up in your draft more regularly.
This is mainly just a quick fix. Blizzard is still brainstorming further solutions. They're considering adjusting the rate at which certain individual cards appear in the draft.
Here's the full list of cards on the chopping block, courtesy of Blizzard:
Mage

Forgotten Torch
Snowchugger
Faceless Summoner

Rogue

Goblin Auto Barber
Undercity Valiant

Paladin

- No changes

Shaman

Vitality Totem
Dust Devil
Totemic Might
Ancestral Healing
Dunemaul Shaman
Windspeaker

Warlock

Anima Golem
Sacrificial Pact
Curse of Rafaam
Sense Demons
Void Crusher
Reliquary Seeker
Succubus

Druid


Savagery
Poison Seeds
Soul of the Forest
Mark of Nature
Tree of Life
Astral Communion

Warrior

Warsong Commander
Bolster
Charge
Bouncing Blade
Axe Flinger
Rampage
Ogre Warmaul

Hunter

Starving Buzzard
Call Pet
Timber Wolf
Cobra Shot
Lock and Load
Dart Trap
Snipe

Priest

Mind Blast
Shadowbomber
Lightwell
Power Word: Glory
Confuse
Convert
Inner Fire