Hitman Episode 5 Is Out, Murdering Militia In Colorado
Holidays!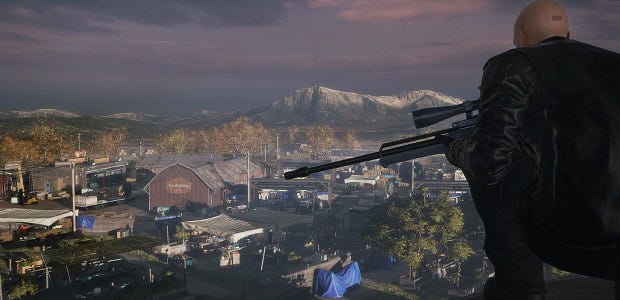 Episode 5 of Hitman [official site] is now upon us, sending Ian Hitman to Colorado. 'Mother of Rivers', some call the state, which is a lovely nickname. I'm a bit jealous. But he's not here to swim in Little Snake River, Green River, the Rio Grande, or even the mighty Colorado - he's here on neck-snapping business. Episode 5 sends him into a farm compound filled with naughty militia members someone wants whacked. Check it out in the launch trailer:
As the ominous voiceover would suggest, this is getting deeper into the storybits. "There are major revelations set to be revealed," say publishers Square Enix, "and this episode will set up an intriguing season finale." That finale will be visiting Japan, we know, and is broadly expected later this year.
The episode's main story mission, which is named Freedom Fighters, will send Ian after a grand four targets. What a busy boy he'll be!
Episode 5 also brings new Opportunities, a new suit, new Colorado challenges, new Mastery levels unlocking new weapons and gear, and so on. New Escalation Contracts, Elusive Targets, and all that will hit Colorado over time too.
A new update launched alongside too, with fixes, balance tweaks, and the usual patch business. It's also resetting the leaderboards, having fixed a bug with the Jaeger 7 Lancer sniper rifle "that in some cases allowed the bullets to pass through level geometry" and let people rack up mega-points. Check the patch notes for details.
We've sent Alec to garotte the garrison and return with some thoughts but hey, you can play now and see for yourself.