Hot Rods And Vroom Sticks: Project CARS
In which a car gets over-excited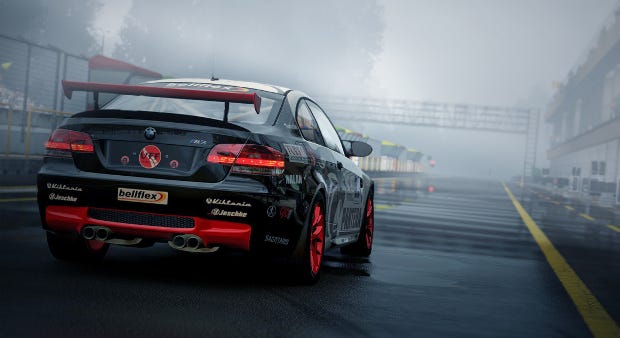 Project CARS may not have the open America and sightseeing adventures of The Crew, but it's a supremely attractive game. With a variety of motorsports and historic goals, the game sees your driver attempting to take a place in the hall of fame. To do that, you'll have to drive really really really really fast. Make sure not to crash as well, I guess, but definitely concentrate on going fast. I've analysed the E3 trailer, which arrives with a reiteration of the November release window, and you'll find a complete breakdown below.
(0.00-0.08) Eight seconds until the first car appears? I was already demanding a refund.
(0.08-0.09) Following on from above - first car is moving in slow motion. Not fast at all.
(0.09-0.10) That car is flying. Silly car. You're not a plane.
(0.10-0.12) Is this Microsoft Flight Simulator or Project CARS?
(0.12-0.16) More like it. Excitable edits.
(0.18) That car is on fire! Only for a second though. I think this is a sci-fi game.
(0.19) Fell out of my chair then. Thought that one was going to hit me right between the eyes.
(0.21-0.22) Like the car going across bumpy terrain. Vehicular jiggle physics.
(0.23-0.24) Shinest car in the world.
(0.28) Is that a tiny car in a colander?
(0.32) Ah, a voiceover about the 'ultimate driver journey'.
(0.34) Are they Karts? Why are they off in the distance? Where are the blue shells?
(0.44-0.47) Dominant drivers win championships using this camera.
(0.59) And now someone has accidentally piped in the music from an epic fantasy RPG trailer. Ooops.
(1.03) Cheeky.
(1.12) Yes! Finally! A car fell over!
(1.19) Pretty rain. Gorgeous cockpit view.
(1.31) JESUS LOOK OUT
(1.39) Eh? Is that a tagline? It's a TERRIBLE tagline. I want a thousand destinations. I want a million!
Now you know everything about Project CARS.