HyperX unveil new Pulsefire FPS Pro gaming mouse
An improvement in almost every way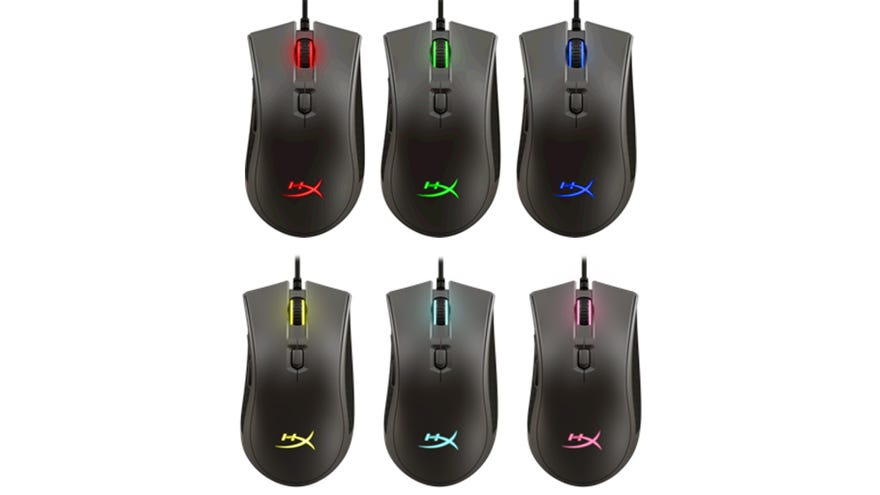 HyperX have announced they're adding another Pulsefire gaming mouse to their hardware line-up today. Dubbed the Pulsefire FPS Pro, this latest addition to the HyperX mouse house sits in between the entry-level Pulsefire FPS and the RGB lightshow that is the Pulsefire Surge. Let's take a look and see what's new.
Available soon for $60 (UK pricing to be confirmed), the Pulsefire FPS Pro borrows the same basic design as its FPS sibling, but comes with an improved grip around the sides, proper RGB lighting on its rear HyperX logo and scroll wheel (the FPS just had a single red LED on the latter) and a wider range of sensitivity settings.
Whereas the Pulsefire FPS was limited to fixed sensitivity settings of either 400, 800, 1600 or 3200 DPI (dots per inch), the FPS Pro is much more flexible, offering a range between 200 all the way up to 16,000 DPI - the same as the Surge. The FPS Pro still comes with similar presets to the regular FPS, offering DPI settings of 800, 1600 and 3200 as soon as you take it out of the box, but you'll also be able to use HyperX's new NGenuity software to customise it to your liking.
The mouse's onboard memory means you'll also be able to store up to three different profiles on the FPS Pro, so you don't have to spend ages faffing around setting it up again when you come to use it with a new PC. Likewise, HyperX have used the same Pixart 3389 sensor you'll find on the Surge in the FPS Pro, so it should provide just as much tracking accuracy as its upmarket sibling.
I'll hopefully be getting one in for testing very soon to see whether it can break into our best gaming mouse rankings, but from the looks of things, HyperX seem to have addressed nearly every complaint I had when I tested the regular FPS earlier in the year - a good sign for those who found it a bit basic compared to the similarly priced Steelseries Rival 110. I also much preferred the FPS' overall size compared to the Surge, so if the FPS Pro can combine the best of both worlds into one kind of super mouse king, then I'll be very happy indeed. Watch this space.