Jurassic World Evolution hatches a toothsome new Challenge mode next month
Rushing projects? In Jurassic Park? Never!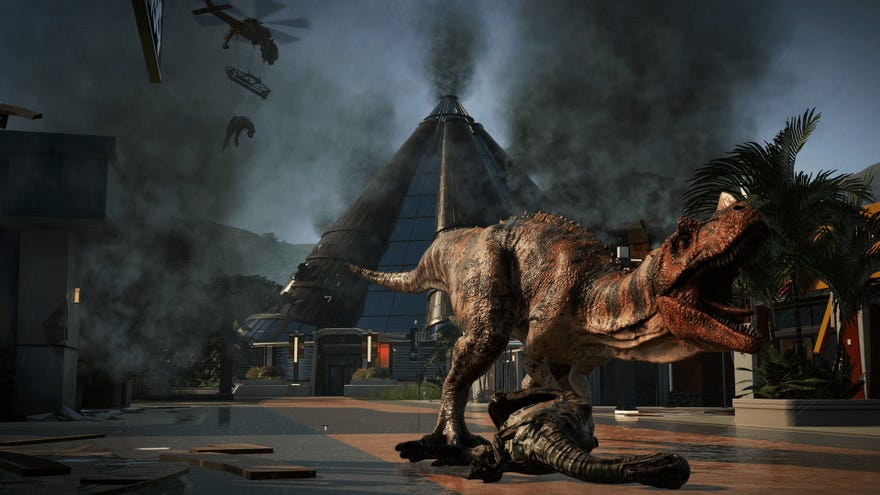 As authentic as dino-park management sim Jurassic World Evolution looked and sounded, it was ironically a bit toothless, so said Fraser Brown in his review. While it tried to nudge players into creative park designs and risky moves through its staff division system, there was little incentive to take absurd, John Hammond-like risks. That may change soon.
Headed to the game on September 13th is a major patch - update 1.4 - that includes a free new Challenge mode with four different difficulty settings and some fun new twists. Check out a developer video tour of new mode below.
Described by Frontier Developments as a "time-trial mode" of sorts, Challenge gives you the simple goal of building a five-star dinosaur park on Isla Nublar, with each star unlocking new parts of the tech tree. While you don't have a hard time limit, each difficulty setting (Easy, Medium, Hard and Jurassic) has its own par time to meet - eight hours, in the case of Hard, at present.

If the video doesn't automagically skip to the juicy Challenge Mode details, it's at 16:30.
Challenge mode assigns you random contracts, which you must fulfil or face a decaying reputation. While you can cancel nasty contracts, doing so comes with penalties. As your park rank rises, you also need to pay larger licensing fees to the Hammond Foundation, and higher difficulties shrink your wallet and boost the likelihood of disasters. That's a lot of odds stacked against you.
In the dev stream, they mention that just surviving Jurassic difficulty is a bit much for most of the studio, let alone meeting the par time, so most will want to start on an easier setting. The challenge mode will be unlocked from the start of the game, too, so you don't have to wade through the story mode to get to the good stuff. The patch also brings a few new Sandbox mode options, some extra contract types, and rejigs the size of some dinosaurs for a more movie-authentic stompy lizard experience. You can see the full (tentative) patch notes here.
Update 1.4 will be coming free to Jurassic World Evolution on September 13th. The game itself is currently 15% off on Steam, bringing it down to £38.24/€46.74/$46.74 until September 3rd.