Settlement Builder Kingdom Due For Release In October
Kingdom will come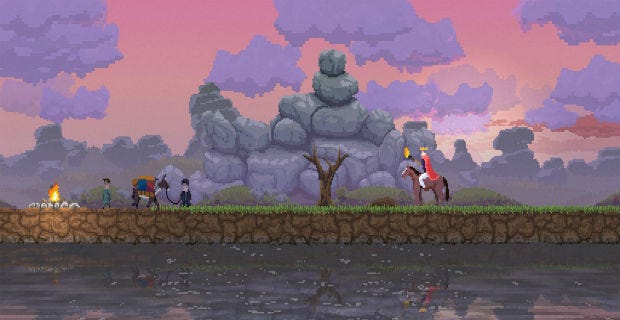 The "indie renaissance", for want of a less-hackneyed descriptor, of the past few years has brought with it a whole host of retro-inspired, minimalist sidescrollers. I've spotted many an internet commentator decry such pixel-parading, damning anyone who should take interest in such an "old-fashioned" style for reasons I never, ever agree with. Why? Well I'm probably an ersatz hipster-type, but, that aside, I love how pretty they are, how catchy the music is, and if there's an entertaining game at the heart of it all then who really gives a shit if it's pulling on our nostalgia or not?
Kingdom [official site], a simple settlement-building strategy endeavor is one of these games and will set up shop on October 21.
Here, look at this:
It's pretty isn't it? When Nathan first spotted Kingdom a couple of years back he thought so, as did Alice earlier this year. Now, how it looks and how it plays are obviously two very different things. What sounds interesting, though, is how Kingdom handles its single resource, coins. As King, coins pay for weapons, buildings, flags, tents, workers you name it. Simple, yes, but it'll be interesting to see how this plays out, particularly the deeper into the game you go.
In the meantime, here's where you can play 2013's prototype, and here's a bit of the soundtrack to marvel at/get unreasonably angry about, depending on your stance: