Lab It Up: SpaceChem Adds Sandbox Mode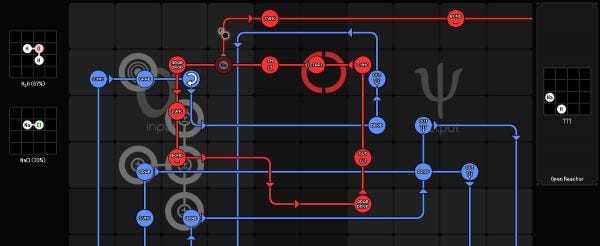 A new update to SpaceChem has arrived, adding a sandbox mode to the brain-challenging indie wonderpuzzler. I haven't tried it yet because I can feel a vein beginning to throb in my temple as soon as I think about the possibilities. There is a competition to find the best creation and this quote to introduce it doesn't help matters:
I suspect that some people will be building molecular computers, but that certainly doesn't mean that's the only thing we're looking for.
So, they'll be building molecular computers, will they? If I load this up there's a very real chance that it's the last anyone will hear from me until I'm found with my entire face clenched into four square inches of pure concentration as new elements spew catastrophically from my motherboard.
More details on the competition here. If you haven't played SpaceChem yet, here is why you should consider it. There is also a demo and the price has now permanently dropped to £6.99/$9.99.
Until January, SpaceChem is also available on a free license to schools. I wonder how many column inches that piece of gaming news will generate?
There's no real need for me to explain why having SpaceChem in schools is a lovely idea. Here's part of the announcement:
While not a replacement for traditional instruction in the areas of computer programming and chemistry, SpaceChem can be used as: a reward that keeps students thinking; an opportunity to practice problem solving skills; an application for statistics using students' scores, with in-game histograms; a cross-curricular reinforcement tool; or a way to get students excited about computer programming and chemistry.