Rocket Jumps And Grappling Hooks In LawBreakers Vid
GRAPPLE-O!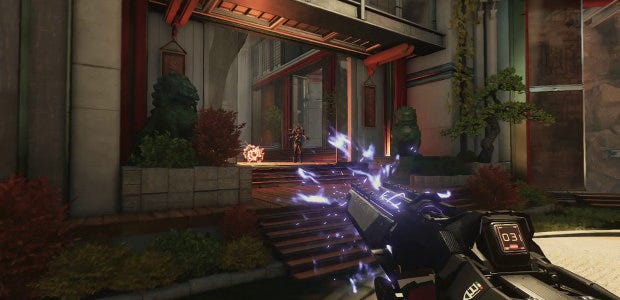 I lost interest during the announcement of Cliff Bleszinski's new shooter LawBreakers [official site] when the former Epic chap's livestreamed reveal-o-rama went into guff about criminals and cops and law-breaking and the future and the moon and... oh, I didn't care. I closed the stream.
However! Watching its 'gameplay reveal' trailer, I discover that the arena FPS has gnarly-looking energy grappling hooks to whip you around levels, rocket jumping, and some other swish gadgets. Aye, I'll keep an eye on this game all right. Watch this:
So, to quickly recap, it's a class-based FPS where different characters have different weapons and abilities. I'm big into Kitsune, the Assassin with electroswords, an energy shotgun, and a zappy grappling hook that can swing her around levels or latch onto enemies to pull her into stabbing range. She seems splendid. Do other classes' powers even matter when grappling hooks are on offer? Probably not! It looks like one guy can fire a gun behind himself while still running forwards, which isn't nearly as cool.
The free-to-play FPS formerly known as Project BlueStreak is due to launch in 2016, published by F2P folks Nexon. I wonder how aggressively they'll monetise it; Nexon can be a bit gross at times.