LawBreakers getting new maps and competitive mode
New legislation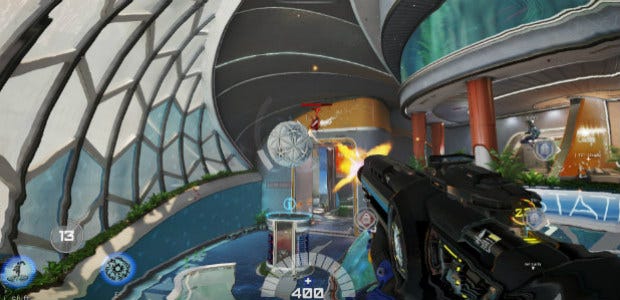 Zero gravity FPS LawBreakers [official site] will add three new maps, new game modes and a new class before the end of the year, developers Boss Key Productions have announced. All updates will be free and the first – due later this month – will include a map called Namsan, a new temporary team deathmatch mode, and some extra tutorials to make it easier for new players to jump on board.
Other temporary game modes, called skirmishes, will pop up throughout the rest of the year. But perhaps the most significant change is the addition of a permanent competitive ranked mode, something the game desperately needs because it lacks a meaningful progression system - as I mentioned in my LawBreakers review. That'll arrive before the end of the year too, alongside a map specifically designed for the game's blitzball mode (where players vie for control for a central ball and then fly it to the other team's goal), plus the game's first asymmetric map, called Valhalla.
There's very few details on Namsan other than it's the first map set outside the US. The screenshot, below, gives you an idea of the art style:
The game's competitive mode will be called Boss Leagues, and again the information on it is sparse. More details will arrive closer to the time of release, Boss Key said.
Here's some shots of the other two maps that are incoming: first, Gateway (the Blitzball specific map), and Valhalla, the asymmetric map set in California's Sequoia National Forest that features "environmental hazards".
As for the new class, we'll have to wait for more details on that, too, because it's still going through art design.
You can read the full announcement for more.