Logitech's low profile MX Keys wireless keyboard is down to £81 at Amazon UK
A high-quality non-mechanical option.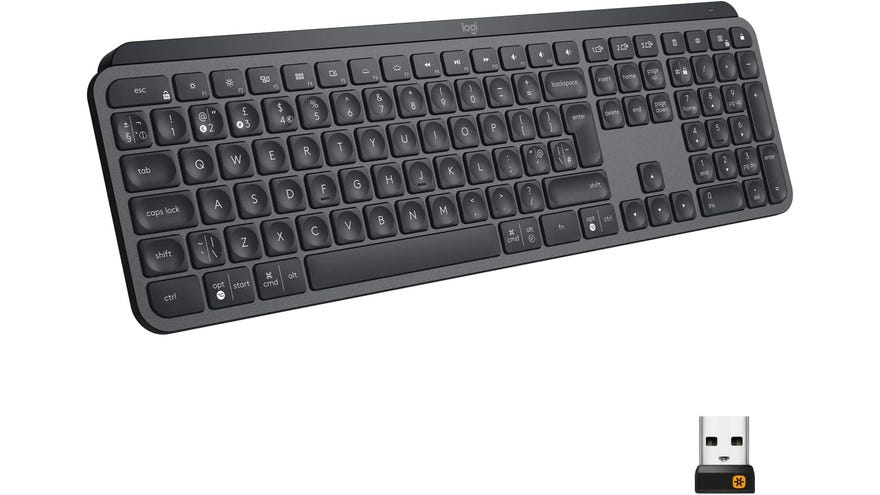 Logitech make some of the best peripherals in the business, including some of my favourite keyboards. I normally prefer mechanical fare here, but their MX Keys low profile scissor switch keyboard is the exception. It provides a full-size UK layout, pleasant typing experience and long battery life when connected via 2.4GHz wireless or Bluetooth. It's normally at its £120 RRP, or close to it, but today you can pick it up for £81 - the lowest we've seen it since January.
The MX Keys is a great keyboard for typing and programming, thanks to its light, responsive scissor switches and fairly gentle report. There's single-color (white) per-key backlighting and the low profile nature of the keyboard means that no wrist rest is required for long-term comfort. (Curiously, the current sale sees the MX Keys listed as "#1 Best Seller in Wrist Rests" on Amazon - ironic.) It's possible to reprogram keys to other functions using Logitech's software, although you'll need to rely on tools like Autohotkey if you want to script your own macros.
For gaming, the MX Keys is a little less suitable - its 2.4GHz wireless connection offers somewhat more latency than a gaming-grade Logitech Lightspeed connection - but it's still quite usable outside of fast-paced and competitive titles - so if you're more into cooperative or single-player games than esports, you'll likely be just fine with the MX Keys. The keyboard is at least snappy to operate, thanks to the short key travel and low actuation force here.
Overall, I'm a big fan of this keyboard and would definitely recommend it as this reduced price if you're not a mechanical keyboard fan. (However, if you haven't tried a good mechanical keyboard, I'd definitely suggest you do so too - consider the Logitech G915 / G915 TKL, Keychron K3 / K5 or Nuphy Air96 for a similar form factor with a big upgrade to key feel and better gaming credentials. )
What do you think? Have you used this keyboard? Let us know in the comments below.