Lookin' Fine: Trine 2 Trailer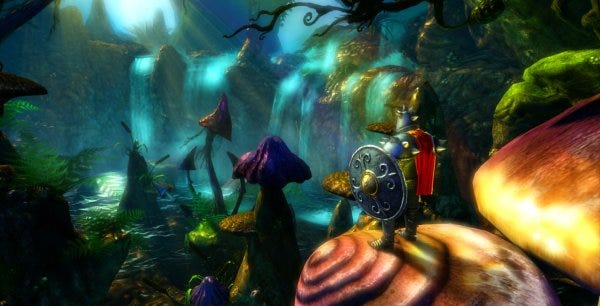 This looks a bit lovely. Frozenbyte have joined in on the "Let's put out a new video for Gamescom" party, and have got a lush new trailer with a first proper look at their Trine sequel, which is hopefully due some time next month. Have a good old gaze at this:
Clearly they're building on the storybook styling, physics centric platforming and coop hijinks from the first game. Seems like there's a pretty noticeable bump in graphical fidelity too.
The first game was considered by some to be a bit pricey compared to what was going on in the rest of the market, so it's nice to see that Frozenbyte have stated on their forums that "Trine 2 will cost less than $30 on any platform. That's all we'll say on the matter until official confirmations."
Also new for the sequel is online cooperative play, in addition to the local coop from the first game. A much requested feature that they were unable to deliver first time around. Good stuff.
The good news doesn't end there though. It looks like after porting the first game to Mac and Linux post-release, the sequel is going to be coming to those platforms too. They're not sure if they will be able to get the Linux version out at release, but if not if will be shortly afterward. I'm sure Linuxers can handle a bit of a wait... right guys?
It's on my list. Is it on yours?