Mass Effect Andromeda studio merging into EA's Motive
So it goes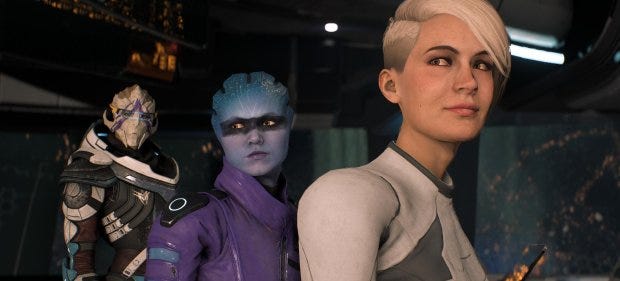 Electronic Arts are merging BioWare Montreal, the spin-off studio who made Mass Effect: Andromeda, into Motive Studios. EA say that "more than ever, we're driving collaboration between studios on key projects". It seems that, after Andromeda, the folks of BioWare Montreal are being drafted to work on others' projects again. Motive, who are also in Montreal, are currently chipping in on Star Wars Battlefront 2 and we know they're working on something new -- supposedly an Assassin's Creed-ish open-world action game -- too.
After muttering about bringing the studios together in a public financial conference call last week, EA confirmed the merger in a statement to TechRaptor:
"The teams in EA Worldwide Studios are packed with talent, and more than ever, we're driving collaboration between studios on key projects. With multiple major projects in development in Montreal, we are merging BioWare Montreal with Motive Studios. This is an ongoing process, but there are many exciting roles and opportunities for everyone on the team."

"BioWare continues its work on new titles – including the highly-anticipated game, Anthem. What's coming next for BioWare is very exciting, and we're thrilled to have Casey Hudson returning to lead the studios in Edmonton and Austin."
We had known since May that EA were shuffling BioWare Montrealers onto other projects, but this is a step beyond that.
BioWare Montreal was founded in 2009. After helping out on Mass Effect with the original BioWare, the one EA call BioWare Edmonton, Montreal got to take the lead for Andromeda. It was a bit disappointing.
Our John said, "as a follow-up to the previous trilogy, it's a timid and tepid tale too heavily reliant on what came before, too unambitious for what could have been, trapped in a gargantuan playground of bits and pieces to do." It seemed rushed too, with the launch followed by patches fixing some silly bugs and applying polish. Kotaku had a good long look at its troubled development, by the way.
For those asking "BioWHICH?" here's a handy glossary:
BioWare: the BioWare family of studios.
BioWare: more realistically, people saying 'BioWare' mean BioWare Edmonton.
BioWare Edmonton: the original BioWare studio, which EA renamed in 2006, who have made most BioWare games.
BioWare Austin: formed in 2006, Austin make Star Wars: The Old Republic and were making the cancelled Shadow Realms.
BioWare Montreal: the studio behind Mass Effect: Andromeda, now defunct and merged into Motive Studios.
BioWare Mythic: formerly Mythic Entertainment, EA renamed the Dark Age of Camelot studio to EA Mythic in 2006, then back to Mythic Entertainment in 2008, then to BioWare Mythic in 2009, then back to Mythic Entertainment in 2012, then shut it down in 2014.
BioWare San Francisco: formerly EA2D, renamed in 2011 then shut down in 2013.
BioWare Victory: unveiled in 2011, BioWare Victory became Victory Games in 2013 then shut down later that year.
EA: early access.
EA: oh, also Electronic Arts.
EA Worldwide Studios: a relatively new grouping in EA's corporate structure covering game development studios, worldwide.
Waystone Games: despite being part of the BioWare label, the studio behind cancelled MOBA Dawngate was somehow never named BioWare.
Simple!