Middle-earth: Shadow Of War gets a demo and a discount
Mor, what is it good dor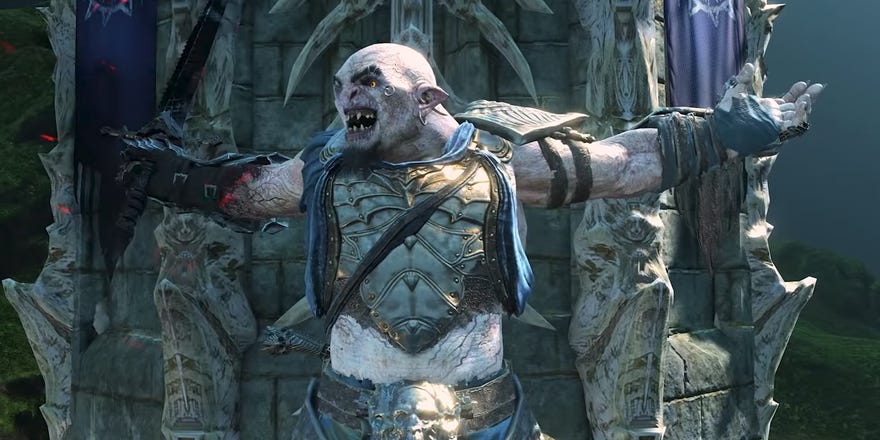 Walking into Mordor used to be fairly simple, but the way in was guarded by the dragon of commercial necessity. Now that Middle-earth: Shadow Of War finally has a demo--nine months after launch--that dragon will turn a blind eye if you want to slip into Núrn for free. He's probably hoping you'll come back and pay £15/$20 to stroll around the rest of Mordor before the 66%-off sale ends this evening, but that's up to you.
It's a generous demo, offering "the entire region of Nurn and its quests". I'd forgotten what the different areas in Shadow of War were called, but I figured Núrn was the green place because those words sounded similar. I figured right!
If you do go in and usurp the fortress overlord in Núrn with a brainwashed follower of your own, that new Overlord will "follow you into the full game" should you choose to buy it. I'm not sure if that means Núrn will remain conquered or if you'll just start with a beefy orc on call, but they'll be hanging around somewhere.
Should you choose to buy it? Leif Johnson thinks so, as he said in his Shadow Of War review:
"I find I can't help but admire most of Shadow of War's Tarantino-esque drive to vaunt over-the-top at every turn, not only in its approach to the source material but in its embrace of fun action over the restrained magic of Tolkien's legendarium. It's everything Shadow of Mordor was but more. Talion doesn't simply walk into Mordor here – he double jumps and erupts into an 'Elven Rage' that recalls Neo knocking back waves of Mr. Smiths in The Matrix."
I'm on the same page. If it besmirches the purity of Tolkein's vision to include a mission where you beat up a Balrog while riding a dragon, then that's a vision worth besmirching.
Oh, and if the inclusion of loot boxes stopped you from picking up the game closer to its release, then you'll be happy to hear they were ripped out last week. Those boxes were easy to ignore and didn't intrude on my fun, but I'm still glad to see the back of them.
The demo arrived on Thursday, accompanied by a weekend-long 66% discount which will end at 6pm tonight (10am Pacific). Until then, you can grab the full game on Steam for £15/€20/$20.