Mirage: Arcane Warfare adds bots to make up numbers
Empty servers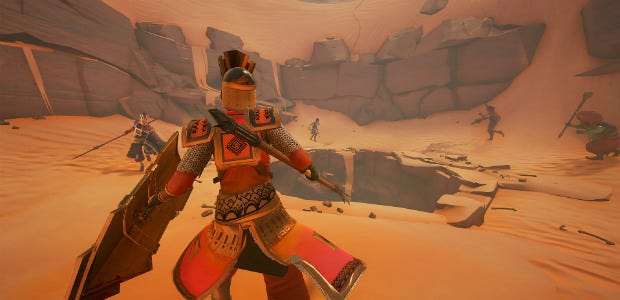 First person hack-and-slash-and-magic 'em up Mirage: Arcane Warfare [official site] this week received its first major update since launching in May, with new weapons, maps, and abilities added to the game. Most importantly, the Gladiator Update added bot-assisted servers in which AI combatants will make up the numbers if players don't fill all the slots.
The reason that's important is that barely anybody is playing Mirage. There are 13 players online as I wrote this, according to SteamCharts, and the peak number of players in the last 30 days is just 49. Which is a great shame, because it's genuinely a lot of fun. It's from the makers of the excellent Chivalry: Medieval Warfare, and if you think what that game would be like with magic then you're not too far off.
I played it when it first came out and really enjoyed the combat. Like Chivalry, there's a pretty high skill ceiling, with lots of directional combinations for swinging your weapon of choice and magical abilities to smite your foes with. The empty servers were a big problem, and look like they still are. Hopefully this update will solve the issue for the loyal warriors still battling their way through the game, and maybe attract a few more players in.
The two new maps are called The Pit and Old Arena, and both look jolly good fun. They're tight and chaotic, by the looks of the trailer below, and The Pit has a giant chasm in the middle that looks perfect for bashing people into.
The update has also added localisation for 12 new languages to go alongside the existing English and Russian. For full details on everything, hit the patch notes.
Mirage: Arcane Warfare is on Steam for £22.99/27,99€/$29.99.