Nice Dwarf, But Is It Art?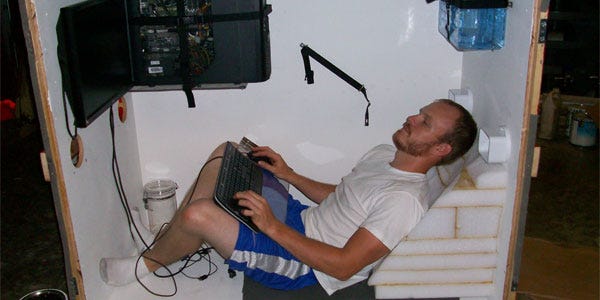 Crikey. This man is travelling 2000 miles in a box at the beginning of next month and the only thing he says he will do while inside is play Lord of the Rings Online. Jordan Wayne Long is a performance and video artist who, from July 7, plans to travel from a town called Bald Knob (hehe) in Arkansas to Portland, Oregon in a specially designed crate. That's across seven states. In a box. Playing LOTRO.
But why? Well, it's art, dahling. So why not? Or maybe it's not that simple. Long's bio says that his current work "deals with trauma and the mechanisms used to deal with it." Do people retreat into an online world to escape the trauma of the real world? It seems more than possible, so maybe he has a good point to make. Or maybe it's just an odd, postmodern stunt. What do you reckon?
The journey will take him seven days, during which he will blog via his LOTRO character Townsfolk, a level 40 Dwarf from Meneldor. Meanwhile, a second team will record the journey from the outside of the crate. You can keep up with all the arty art at his official website, if you're that way inclined.
Thankin' ye, Massively.