Wizard: LOTRO Rise Of Isengard Shots & Info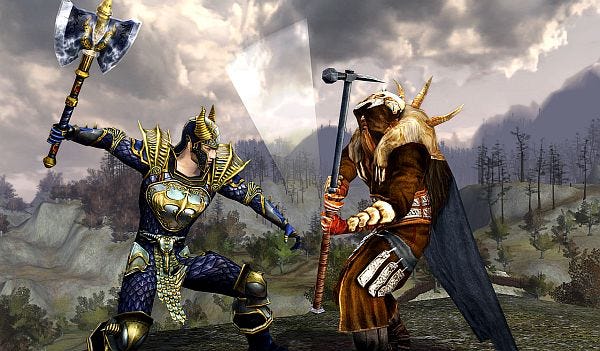 Lord of the Rings Online: Rise of Isengard is out at the end of this month - the 27th to be dangerously precise - and that means anyone who was on the beta can talk about it. Except I wasn't, as I have this full time job. However, it does mean a bunch of new details have been revealed, along with some new screenshots revealing new gear and weapons. As ever we bring you the most helpful coverage, below.
So in Isengard you've got three new regions. They are:
Dunland: Colourful forests at the base of the Misty Mountains, populated by grumpy warriors.
Gap Of Rohan: The gap between the scapula and the clavicle, in which the armies of Sauron provide essential lubrication.
Isengard: Home of one of the Two Towers, Orthanc, the Isengard valley is gorgeous at this time of year, with plenty of tea shops and parking available.
The game will also let you advance to level 75, and enter a 24-player raid to fight Draigoch, defender of the Armchair Castle in Lower Cxxxzrtth.
I think this might be the last remaining game to send its screenshots in 4:3, which you can see if you click on the images below.