En Gored! Nidhogg 2 Is Bringing Axes To A Swordfight
Newhogg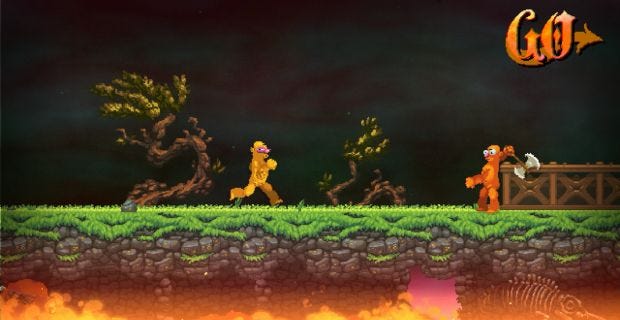 And not just axes. Bows and arrows, throwing knives and good old-fashioned fisticuffs will all feature in the sequel to the hectic fencing and neck-snapping game Nidhogg [official site]. Messhof's original foray into poking people with sharp objects first appeared in the dark ages of 2010 and then vanished for approximately one thousand years before finally being released to euphoric applause. Now, Nidhogg 2 [same official site] is in the works, the developer has announced. It looks both wildly different and comfortably familiar. Come watch the trailer.
What a ripping good time. The game is set to include at least 10 levels, including the classic castle level seen here, as well as new weapons like the aforementioned axes and knives. Meanwhile, the developers have enlisted the help of Toby Dixon, creator of pixel grotesqueries, to give the world a makeover. He has done a good job on the world-eating worm of the title. Look at these yellowed, rotten teeth.
What's more, if you happen to be at TwitchCon in San Diego this weekend, there'll be a playable demo in the expo's 'Indie District'. If you aren't there, never mind. Here's some of the things promised for the final release:
● Completely overhauled detailed environments and animations
● 10+ levels of fencing goodness
● Local and online multiplayer and tournament mode
● Play single-player against a series of AI opponents with occasional special challenge rounds
● New soundtrack featuring music by Mux Mool, Dose One, Daedelus and more!
● Even more stuff we'll talk about soon...
I've long been a fan of Nidhogg. I shuffled in dark corners of the Eurogamer Expo to play an illicit copy on a friend's laptop. My flatmates and I once held a tournament of the game. I wrote a sci-fi novel about orphaned children who form an underground videogame collective called "the Nidhogg", named after a "long-lost and legendary fencing game". The novel remains unpublished.
So I'm excited to see how the sequel feels. Will the new weapons detract from the purity of the dueling? Will the strange new art style simply distract or will it make fights more grubby and satisfying? Stick around for our interview with Messhof, where we'll get some teasing about features which may make it into the game.
It's expected to release in 2017, so possibly we'll have a review of it by 3017.