Night In The Woods: Mae's Homecoming Set For January
When the cat came back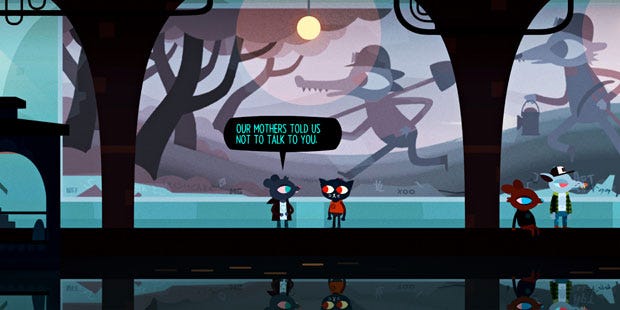 Night in the Woods [official site] - a narrative-driven platform-ish game about a cat who goes back to her hometown and no longer feels like she fits in - finally has a release date! It's 10 January 2017.
"20 year old Mae Borowksi has dropped out of college and come home to Possum Springs, a small rust belt town out in the middle of nowhere. She's looking to meet up with old friends and resume her previous life of aimless hanging out and petty crimes. But the old places are now less familiar. Her former friends have grown and changed while she was away. Strange things are starting to happen. And at the edge of town, past the old burned out basketball court, there's something in the woods."
Night in the Woods has been buzzing on the periphery of my radar for a while now, like a moth poking its head into a light-fitting to remind the light that it's still there (which is what I assume they do that for). There's the actual game, which I was worried might settle on twee but which seems to end up more at slightly unsettled and odd but lovely and that's far more interesting.
There were also the two... satellite games? Is that how we refer to them? One was the name-you-own-price stargazey campfire miniature experience, Longest Night, and the other was Lost Constellation which was a spooky short story following a little crocodile astronomer.
Last time I wrote about Night In The Woods, it was expected before the end of the year, but has now tipped over into early Q1 2017, which is business-speak for January.