No Man's Sky's Survive Trailer Is Full Of Poison
And radiation.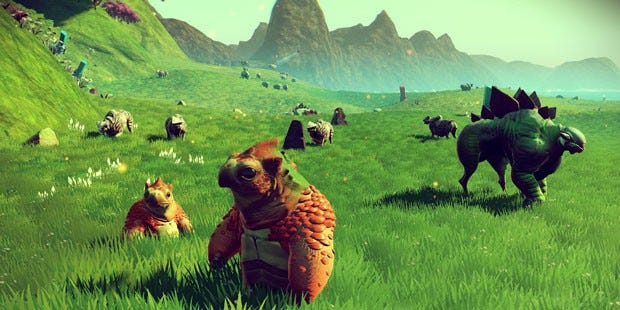 Don't take my slight sadness at No Man's Sky being released as a sign I've made up my mind about it. I haven't played the procedural space-'em-up and so my mind is still wide open. I keep watching these trailers for a hint at whether it could be great and the latest and last, titled "Survive", is below.
It's not hard to throw a bunch of perlin noise at a terrain and generate something resembling a planet. What's hard is to give that terrain meaning and shape, so that there's some value in progressing across it once the novelty wears off. No Man's Sky's world is being populated with poisonous plants, dangerous radiation and freezing cold, alongside the collectible resources seen in previous trailers. It looks a little more like Minecraft with each of these trailers.
Minecraft with spaceships isn't a bad pitch, though. You can watch those trailers for explore, fight, and trade, to see the other cornerstones of the No Man's Sky experience.
It's not entirely clear when No Man's Sky is coming out on PC, but our best bet says they're at least aiming for August 12th.