Nuclear Throne gets one last big update
It's rad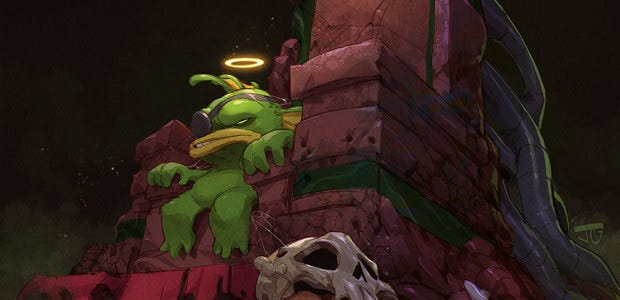 The rad roguelikelike shoot 'em up Nuclear Throne has launched what developers Vlambeer are calling its "final major update". This comes almost two years after Nuclear Throne launched out of early access. Update 99 brings balance tweaks and buckets of bug fixes, improves the game's performance, and should make modding easier. It doesn't add gobs of new content but is intended to tidy up odds and ends to leave Nuclear Throne in a fit state for posterity. Well, mostly - it does seem to have a nasty little bug wiping progress for some players. Maybe wait a bit, just to be safe.
Developers Vlambeer explain that they've been a bit quiet because launching Nuclear Throne "took a lot out of us" and afterwards they "were all entirely exhausted." But, they say, "Since then, we've slowly been finding our footing again, and now that we're feeling creative again, we decided to return to form with a long-long-long-awaited final major update."
They hired 'YellowAfterlife' to work on this. He's the fella who made Nuclear Throne Together, the unofficial mod which added online multiplayer. No, sadly Update 99 doesn't make this official.
Hit the patch notes for full details on Update 99. And see the comments their for cautionary tales of lost progress. Some Mac players are saying this fix got their progress back but you might want to wait for this to be officially fixed before gunning for the throne again if you're not happy fiddling with files. Update 99 might be be the last major update but I suspect we'll soon see a minor one fixing some of its problems.
In the meantime, you might fancy reading this recent Reddit Q&A with folks behind the game.
Disclosure: Vlambeer's Rami Ismail once crashed round our flat after an event.