Nuclear Throne Mod Adds Online Co-op
Impressive!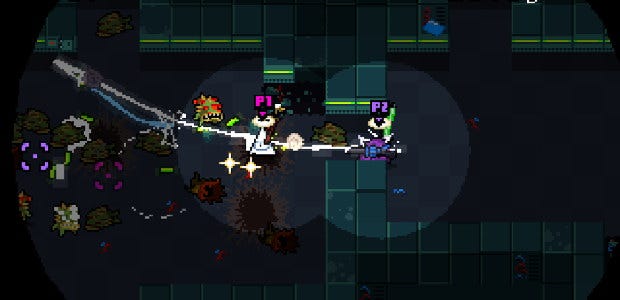 Online co-op multiplayer has arrived in Nuclear Throne [official site], Vlambeer's John-pleasing rougelikelike shooter, thanks to an unofficial new mod. YellowAfterlife's Nuclear Throne Together mod cleverly adds online multiplayer completely with Steam invitations and lobby lists, which is awfully impressive considering Vlambeer never shared source code - this is reverse-engineered. Now you and a pal can try to become kings of the nuclear wasteland together.
It's not just adding online support to co-op, mind. The mod also fixes bugs left over from Nuclear Throne's local co-op and polishes it up, fixes other bugs in Nuclear Throne, and adds replays so you can watch where your runs went wrong or even drop in and take over.
Do check out YellowAfterlife's blog post for information on how he even made this. It's full of exciting/staggering sentences like "The next thing that happens is me staring at a 9.5MB \ 233 000 line long bytecode dump of Nuclear Throne, trying to make any sense of what's going on, questioning my intentions."
YellowAfterlife did also run the idea by Vlambeer before releasing it, so while this isn't official it is accepted.
You can download Nuclear Throne Together from Itch and Thronebutt. Do be aware that this is mod is only made for Windows and the Steam version of Nuclear Throne. And, obviously, the lower the latency between players, the better.
YellowAfterlife previously created a similar mod for Wasteland Kings, the game which later became Nuclear Throne.
[Disclosure: Rami Ismail, the tall half of Vlambeer, crashed round my flat after talking at an event a few years back. Ongoing research suggests that 37% of all people connected to games in any way have now experienced this.]