Dadlier Than Ever: Octodad Free DLC Coming In Dad Shorts
They had wanted to call it 'Dad Jorts'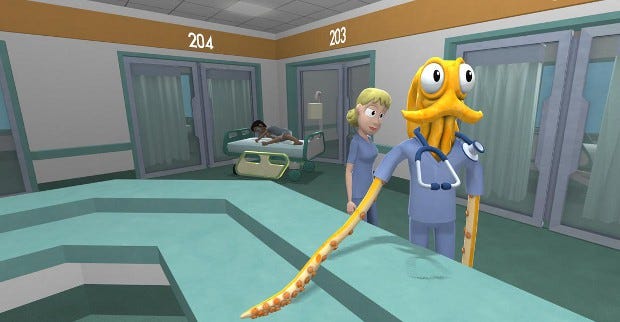 They have a hard lot in life, Game Dads. They scarcely have time to get through the front door and step into their slippers before trouble comes calling and they need to kick in the teeth of some lout threatening their daughter/daughter figure. Poor chaps. Real dadding's like that too, Alec tells us.
Dear old Octodad has got into a few scrapes and scraps himself, and his troubles aren't quite over yet. Creators Young Horses are making new adventures in wonky physics for Octodad: Dadliest Catch, planning to release them this summer as free DLC. The pack's name: Dad Shorts.
The Dad Shorts levels will be standalone stories and therefore longer than regular Octodad misadventures, Young Horses say. The Shorts announced so far are Octodad's first date with his wife-to-be, which I'm sure won't go so badly it changes history and erases his life and family, and another based upon stories his kids make up about him being a nurse. Flailing tentacles are certainly one way to make Surgeon Simulator even more horrifying.
Say, the game's in the Steam sale too, down to £7.19.
In the spirit of things, here's a new zany live-action trailer of what happens when an octopus trying to be human seems to follow a HowToBasic guide to baking a birthday cake: