Overgrowth's final update feels like the end of an era
Keep your lucky rabbit's foot close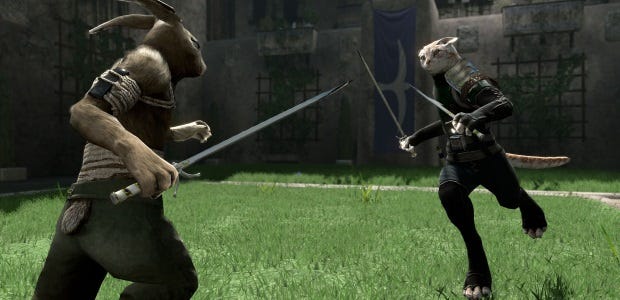 September 17th, 2008, nearly a full decade ago. That's when Wolfire Games first announced anthropomorphic animal brawler Overgrowth, and now it's due to receive its final update - version 1.3. While Wolfire would go on to be better known for their Humble Bundles (eventually selling the Humble brand to IGN), I feel that Overgrowth and its decade of development is an important part of independent games history, and following its creation from the beginning taught me much of what I know about the realities of game development today.
Wolfire always were firm believers in open and public development. Over the course of dozens upon dozens of development update videos and blog posts, they charted the creation of a bespoke and powerful little game engine, along with an editing tool-set that almost anyone can produce something playable with. Watching these videos and playing along with every pre-order alpha build released was an education in of itself, and I don't regret putting money down on the game early, even if it took the better part of a decade for the game to be officially finished.
In the end, not too many people loved the Overgrowth that was eventually released, with our man Fraser thinking that it wasn't ready for the big leagues in his review last year. As polished and detailed as Overgrowth was in many regards, it was still a direct sequel to Lugaru: The Rabbit's Foot, a quirky little game from 2005 built around high-impact melee combat (and little else) across often bleak and desolate environments. Traits carried over wholesale to Overgrowth.
After launch, Wolfire made some improvements to the game, including remastering and integrating an entire fan-made campaign, but nothing fundamental to its mechanics. Version 1.3 (shown above) feels like a final bit of polish, mostly focused on improving controller input, making more controls rebindable, and opening the door for future fan-made translations, should anyone feel so inclined.
Overgrowth is 40% discounted down to £13.79/$18 in the Steam summer sale, and retains a small but dedicated (and highly creative) community, only just concluding their latest level creation jam a week ago. You can find the full patch notes for version 1.3 here, and I wish Wolfire luck and a rabbit's spring in their step on whatever they choose to work on next.