Rainbow Six Siege does all the big reveals for Para Bellum
Alibi, Maestro, maps, and new Pro Rules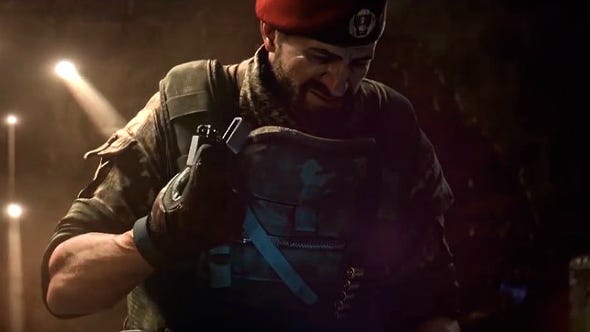 During today's Terrorism Shooty Championship, Ubisoft revealed the entirety of the new Rainbow Six Siege Para Bellum-- the Italian season for the online surprise-em-up. The new operation adds balancing changes, a secondary gadget, and some map buff alterations. But the two new operators and the Villa map are the most exciting parts. Well-- that and the promise that entire maps are about to get rebuilt from the ground up.
The new Villa map will be on test servers by May 22nd. As opposed to previous map roll-outs, you won't need to wait for the location to come up as part of a rotation: you can fire up Villa anytime you want. It's annoyingly gorgeous, as I covered last weekend.
During the stream, level designers lamented that one of the new operators can obliterate floors and walls with such ease that it really turns this beautiful architectural marvel they worked so hard on into splinters. You could hear them sound genuinely sad about it on the stream. Now I don't want to play because I don't want to hurt anyone's feelings.
Anyway, here are your new Italian Gun-bois:
Meet Alibi.
Meet Maestro; the most Italian of all names. The hosts introduced him on the show as a "thick boy" and the audience applauded. Like, too much applause. He has a full auto-shotgun that can "just delete walls or floors."
Check out that nice Villa house y'all gonna wreck.
I think perhaps competitive Siege is the most watchable esport for me now?
There's also new rules for seasons, Pro League competition, and a ton of small balancing notes. All of this should be detailed in patch notes and dev blog stuff on the official site by Tuesday morning.
What will take a bit long are the map changes. A number of maps are getting buffs, which the announcement described as moving the furniture around, albeit it in a way that even experts from the game are going to have to relearn how to navigate. But some maps will be completely overhauled. The audience seemed to love this in a way that even the devs were shocked by.
Finally, check out these adorbs season two figurines.