Rocket League DLC: REVENGE OF THE BATTLECARS
Supersonic Acrobatic Rocket-Powered Battle-Cars strike back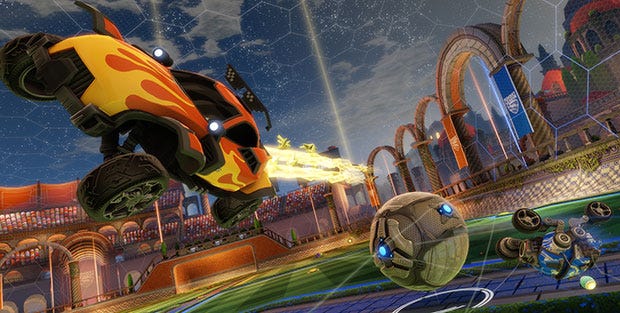 Oh man, I'd be so good at Rocket League [official site] by now, if only MGSV hadn't been released and stolen all my time just after I started playing it in earnest. I can sprint-punch a donkey and fire it into the air in a heartbeat, but no way I could car-kick a ball into a goal on random servers now, I suspect. Graham, can I take a week off to practice? I need to so I can write about the excellently-named upcoming second DLC, Revenge of the Battle-Cars. Yes? Great, see you in a week.
First observation: REVENGE OF THE BATTLE-CARS is the best name for DLC ever.
Second observation: the contents don't sound particularly exciting unless you're really, really into the decoration stuff.
Included in the $4 pack are:
- 2 new cars, which are in fact recreations of the Scarab and Zippy cars from Rocket League precursor Supersonic Acrobatic Rocket-Powered Battle-Cars.
- 6 new decals for each of those cars
- 3 new paint types - Toon Glossy, Toon Matte, Toon Wood. 'Toon wood' is a phrase which unnerves me a little.
- 2 new wheels, which are the Scarab and Zippy wheels
- 2 new rocket boosts, named Accelerato and Battle-Stars. Accelerato sounds like atchoo in Italian to me.
- 4 new toppers, aka car hats - Cavalier, Locomotive, Pixelated Shades, Shark Fin.
- 2 new antennas - Retro Balls from SARPBC. What a funny coincidence, Retro Balls is what I call Mario games.
- Some new Achievements.
Additionally, all Rocket League owners are getting some visual frippery for freesies. The Urban Station map will get a Night skin and Utopia Coliseum a Dusk one, while there'll also be a clutch of new country and community flags to decorate yourself and your profile with.
Here go trailer fast trailer go go trailer:
That's due out next month, but exact date is TBC. Devs Psyonix also confirm that Rocket League has sold over a million copies on Steam alone, and its first DLC Supersonic Fury managed over 600,000 sales, which is a pretty bloody impressive take-up for DLC.