Dark Platforming Souls: Salt & Sanctuary Shows Co-Op
That telltale UI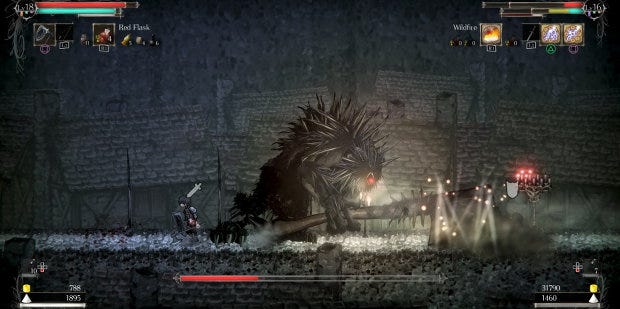 You can tell Ska Studios' Salt and Sanctuary [official site] is a bit Dark Souls-y, because it's got that Souls UI. Just as a gurning mug on an FPS's UI in the '90s let players know they were in for something a wee bit Wolfenstein-y, those red and green bars and that style of font say this is a grim game with plenty of mystery, parrying, and dying. And it is. Salt & Sanctuary may have missed plans to launch last year but here, look at this new trailer's bit of co-op Soulsing.
Here are Michelle and James of Ska Studios (you might remember them from Charlie Murder, The Dishwasher, and other Xbox Live Arcade games - or Survival Crisis Z on PC way back) with a little rehearsed action:
Yep, lighting fires, gravestones, reclaiming souls after death... that's made by folks who played Souls games all right. They've taken the ideas to 2D platforming, and it looks like a good'un. Ska explain more of how multiplayer works in a a PlayStation Blog post, including how co-op players will be thrown into PvP if one of them uses a certain item ('crushes an Egg of Wrath', in its terms). Do check out this old vid for more on the nitty-gritty too.
Salt and Sanctuary will launch before the end of March, with Ska saying they'll announce a date next week. That'll probably be for the PlayStation 4 version, mind, as the PC version is due a little later following a "short" period of exclusivity.
Ska had been working on a PC port of The Dishwasher: Vampire Smile too, but Salt became their priority. "While Salt is in cert, there is a good chance we'll be diving back into Vampire Smile," they say in their FAQ. "If these two games do well on PC, we can look at other older games."