Second Wind: Treasure Adventure Game Being Rebuilt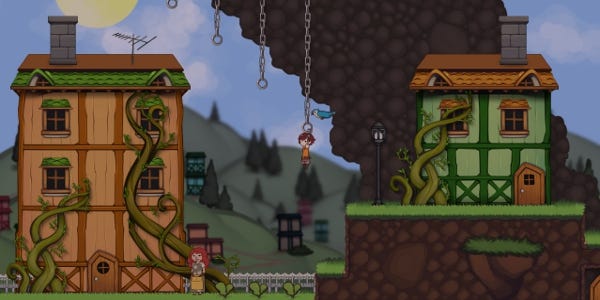 Remember Treasure Adventure Game? Come now, don't make me roll up a copy of Adam's brief yet glowing appraisal and beat you over the nose with it. You have a very attractive nose. Since I cherish its Greek-sculpture-like beauty, I suppose I'll eschew punishment and just tell you it was a peaceful, pleasant explorer jetted with jolts of high-seas derring-do. TAG was, however, also a labor of low-budget love, so it took a hit or two in the scope and scale department. But no more. Robit and Chucklefish (two gaming companies, in spite of names that suggest they're actually a comedic noir future mystery-solving duo) are gutting TAG, starting from scratch with a gorgeous new art style, and rechristening the whole thing Treasure Adventure World. It looks quite scrumptious. Have a gander after the break.
Yep, that's a gander, alright. And now, here's the debut trailer of Treasure Adventure World.
So then, aside from the art style, what's actually changing? Well, these things, mostly:
New engine - smoother gameplay, HD widescreen mode
High-res, hand-drawn art - Christine Crossley is the sole artist bringing the pixelated world of TAG into the beautiful world of HD
New music and sound by Robert Ellis
More treasures and collectibles, remixed puzzles and new equipment
Improvements to enemy AI, more intense boss fights.
Enhanced story - more tightly focused story, intriguing cutscenes, charming NPCs and new multiple endings
In other words, it'll be more of the same Crayola-colored cavorting, but bigger and (presumably) better - heaving with a pregnant belly of treasures. And perhaps also adventures. I think that's actually a fairly safe guess on my part, all things considered.
So yes, between Treasure Adventure Game's rock-solid foundation and the fact that co-developer Chucklefish is best known for the equally promising-looking Starbound, there's quite a bit to be excited about here. Are you feeling all tingly about it? Be honest, now. Don't worry. Your nose is safe. I promise.