Wadjet Eye's Shardlight Coming March 8th
Pretty good, says John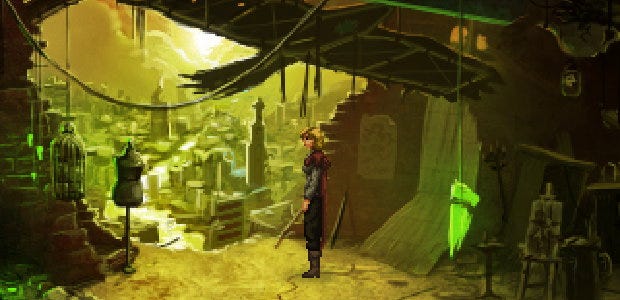 Our John called Shardlight [official site] "an absorbing puzzle adventure, which is a phrase all too rarely uttered even in these days of the genre's clumsy resurgence" when he played an early version. That's a very John form of praise, isn't it? But encouraging! Soon we'll get to see for ourselves, as developers Wadjet Eye Games have announced they'll release Shardlight on March 8th.
You know Wadjet Eye, the folks who've made the Blackwell games and The Shivah but not a Vertigo Comics game, and published plenty of adventure games made by others.
Shardlight's set in a grim, dystopian city where everything's trashed, the illness 'Green Lung' ravages the poor, and the rich lark about wearing creeping ornate gas masks. In this unhappy place, mechanic Amy Wellard is doing "lottery jobs" for her chance to win the vaccine until she gets tangled in conspiracy. She sounds nice. As John wrote:
"And most tellingly about her, she has a lot of friends all over the city, people who are pleased to see her, act positively toward her. Making them relatable too! While there is certainly unnecessary obtuseness from some, these are people willing to help her, positive around her, rather than grumpy or sullen or plain confusing. It is a fantastic shortcut for having you feel like you're playing an established character in an established world, rather than the all-too common memoryless avatar freshly emerged from a cocoon."
Good-o! March 8th it is, then. For now, a new trailer:
'Green Lung' does mostly remind me of Peter Serafinowicz's Terry Wogan pirate radio sketches - "Big up Green Lungs and the Arachnid Egg Sac Crew in Isleworth, easy."