Skeletons And Spiders: Trine 2 Screenshots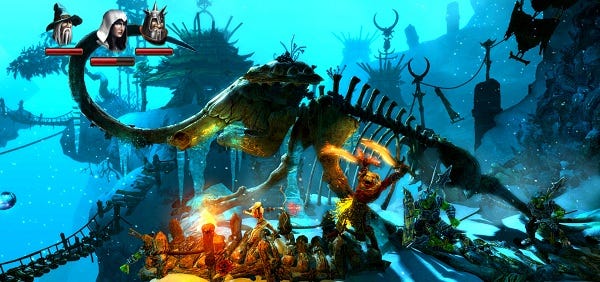 I was operating under the belief that everything was beautiful in Trine 2's world, whether the rushes growing by a crystal clear pool or the giant mushrooms with a candle's light casting a glow from their interior. And then they went and showed me a bloody spider. It's a right horrible one as well, with segmented legs thicker than a bemuscled torso. Thankfully, the other three new screenshots don't contain anything repulsive, unless you're particularly offended by beautiful fantasy environments. Are you? Then don't click on the images below for larger versions or you might be sick all over your keyboard!
Brace yourself
Ew. Softly illuminated lava...hnnnggghhnnngh.
One of those mushroom houses, no doubt inhabited by a wise and lovable gnome-like creature or somesuch. Sickening! Gnnnnghhhh...
The bones of a majestic pachyderm forming a weirdly attractive backdrop to fairytale fighting. Haghll...gnghh...blaarrrgghhhle...
Phew. A giant spider with a pulsating pink arse. All is well.