South Park: The Fractured But Whole Announced
Superhero action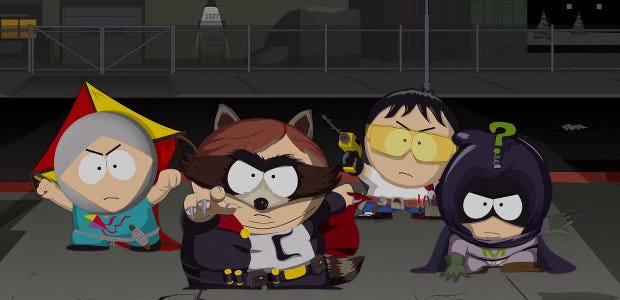 South Park: The Stick of Truth was pretty good (though not without its problems), and South Park is big bucks, so Ubisoft announcing a sequel is no surprise. But who cares about fantasy any more? No, all the kids are into superheroes now. It's not Stick or Truth 2, then, but South Park: The Fractured but Whole [official site].
Trey Parker and Matt Stone say it should be better this time.
As I've been sat in this damn chair for the best part of fourteen hours, you get the official description with none of my sparkling repartee:
"In South Park: The Fractured but Whole, players will delve into the crime-ridden underbelly of South Park with Coon and Friends. This dedicated group of crime fighters was formed by Eric Cartman whose superhero alter-ego, The Coon, is half man, half raccoon. As the New Kid, players will join Mysterion, Toolshed, Human Kite, Mosquito, Mint Berry Crunch and a host of others to battle the forces of evil while Coon strives to make his team the most beloved superheroes in history."
Curiously, Obsidian aren't developing this one; it's being made by Ubisoft San Francisco. No word on a release date yet.