South Park: The Fractured But Whole coming in October
PARP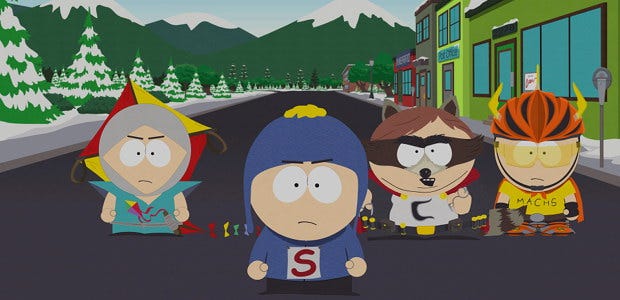 The mighty parpin' sweary babies of South Park: The Fractured but Whole [official site] will arrive on October 17th, Ubisoft announced today. It's the the superhero-themed RPG follow-up to The Stick of Truth, which riffed on epic fantasy movies. All right, superhero jokes are maybe a little behind but hey, so is the game. And you know what else is behind? A bottom. And you know what comes out of bottoms? Farts. See the power of crime-fighting farts in this here new trailer:
The Fractured but Whole follows on from The Stick of Truth with more turn-based tactical RPG combat and those South Park jokes there, though it is made by a different studio. Obsidian Entertainment made Stick, while Fractured is the work of Ubisoft San Francisco.
Something strange and probably awful must have happened with this game's development, mind. When Ubisoft announced a December launch back in June 2016, they were confident it'd be done within six months. Then Ubi delayed it. Today's new release date tacks another ten months onto that first date. Obviously Ubisoft decided the game wasn't ready enough but I wonder what made them go from thinking it'd be ready within six months to giving it sixteen. Were they wildly overconfident or did someone originally have daft ideas about rushing it out? Either way, the extra development time probably works out better for us.
Our John liked Stick of Truth, with some reservations, so fingers crossed for this. October 17th it is.