Starbound is adding player-built space stations
Build your dream station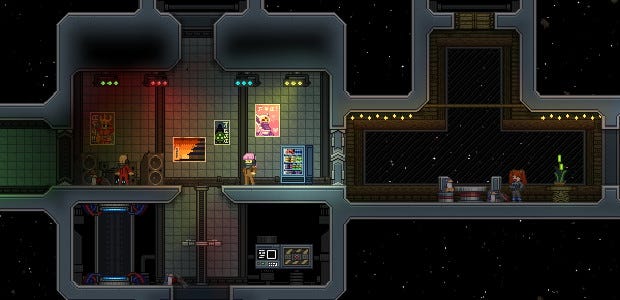 Crafty space sandbox Starbound [official site] will add the ability to build your own space station in its next update. Living on planets is for lahoo-oo-oo-serrrs so Starbounders and starcads will get to build their own space base out of snap-together modules, shaping and decorating stations as they please. Me, I'd want my station to be a space bar in a space garden but I am of course aware that a large number of space tadgers will be built.
Players will start a station by deploying a probe into orbit in a system, which will start them out with a spacebox with a door and a teleporter and not much else. From there, players can add modules in a large variety of shapes and sizes if they have the resources to pay for 'em. Here's developers Chucklefish demonstrating expansion:
Also due in update 1.3 are mechs, letting players build their own modular mech (and paint it, and add a horn) to stomp around and explore space in safety and comfort. Expanding space is a big (and broad) focus of update 1.3. Chucklefish are also expanding space exploration so players can properly poke around between worlds, getting into scraps and maybe finding some interesting places. And that's just what we know so far.
We've still no firm word on when Starbound version 1.3 will launch.