Digital deals so far this week
Includes 20% off Cuphead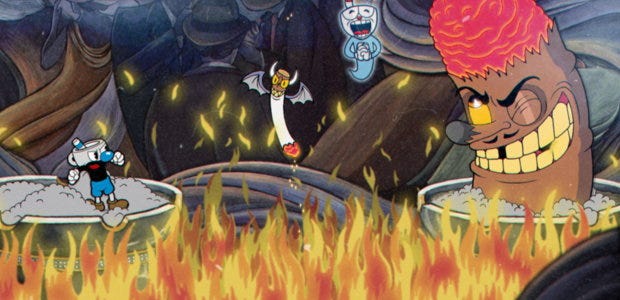 Once more, we've made it to the very middle section of the week - right there in between a weekend and another weekend. What better time to indulge in some digital video game niceness? Incidentally, this also happens to be the week before the international commerce festival that is Black Friday 2017. We've already got a guide to the best PC gaming Black Friday stuff on the site, take a look at that and maybe bookmark it, why don't you.
Before that all unfolds, there is already a batch of fairly nice deals on digital downloads available right here on the good ship Internet. So, consider this another convenient mid-week digital deals roundup if you like. Let's get to it, shall we?
Humble Care Package Bundle
Humble has gone and put together one of its best bundles in a very long time, featuring Darkest Dungeon, Stardew Valley, Her Story, DreadOut, and more. Best of all, though, is the fact that this particular bundle is entirely for charity, meaning 100% of the proceeds go directly to a set of charities, with no messing around with any profit splits at all. This bundle launched with a goal of $300,000 and has already doubled that at the time of writing.
Here's what you can get:
Starbound
Darkest Dungeon
Minecraft: Story Mode
Stardew Valley
Move or Die
Duck Game
Her Story
She Remembered Caterpillars
Stronghold Legends
DreadOut
Pony Island
Mighty No. 9
The Incredible Adventures of Van Helsing
Arma: Gold Edition
Grey Goo
Sorcerer King: Rivals
Shadowrun Returns
Kholat
Primal Carnage: Extinction
Lakeview Cabin Collection
The Park
Magicka
Machinarium Collector's Edition
Jump Stars
Fearless Fantasy
No Time To Explain Remastered
Psychonauts
Pay $30 / £23 for the Humble Care Package Bundle
Weekly Sale from GOG
Over at GOG, you'll find this week's range of sale titles to be made up of games from both Daedalic and Double Fine. This means you'll be able to get your mitts on everything from Grim Fandango Remastered for £3.79 / $5.09 to the Deponia series for a matter of change. Did I mention that you can get Grim Fandango Remastered? Because you should do that, even if you already own a copy.
Some highlights:
Full Throttle Remastered for £7.39 / $10.04 / €10.09
Day of the Tentacle Remastered for £3.79 / $5.09 / €5.09
Grim Fandango Remastered for £1.99 / $2.99 / €2.79
Broken Age: The Complete Adventure for £3.09 / $3.99 / €3.99
Psychonauts for £0.79 / $0.99 / €0.89
Shadow Tactics: Blades of the Shogun for £26.29 / $29.99 / €30.09
Randal's Monday for £3.09 / $3.99 / €3.99
Gomo for £0.59 / $0.79 / €0.79
Holy Potatoes! We're in Space?! for £5.99 / $7.49 / €7.49
Deponia 4: Deponia Doomsday for £7.49 / $9.99 / €10
Massive Chalice for £1.59 / $1.99 / €2.09
Up to 90% off Double Fine and Daedalic titles from GOG
20% off Nioh, Cuphead and PlayerUnknown's Battlegrounds
Over at Green Man Gaming, for the next two days, you can get 20% off a copy of PlayerUnknown's Battlegrounds, Nioh: Complete Edition or Cuphead when you claim a voucher from the site's VIP Deals section. You'll need to have a (free) account to do so, and you'll only get one voucher, so make sure you choose wisely.
VIP Deals 20% off voucher from Green Man Gaming
Last call for Deadpool
As we've mentioned before on the site, the Deadpool videogame is being delisted from Steam this week and will be unavailable to purchase after that. Anyone who buys a copy prior to its delisting will still keep their game and be able to play whenever they want, but for everyone else it's gone for good. It might not be a game that's an easy recommendation, but if you'd rather own it than risk missing it forever, you can buy a copy and give to charity at the same time by going through Humble.
Deadpool for £8.99 / $11.99 from Humble Store
That's all for now, though with Black Friday 2017's imminent presence, it's likely that we'll get a cavalcade of newer deals headed our way soon. Keep your eyes peeled.