Starbound Wipes Out Character Wipes With Huge Update
Viking helmet? Viking helmet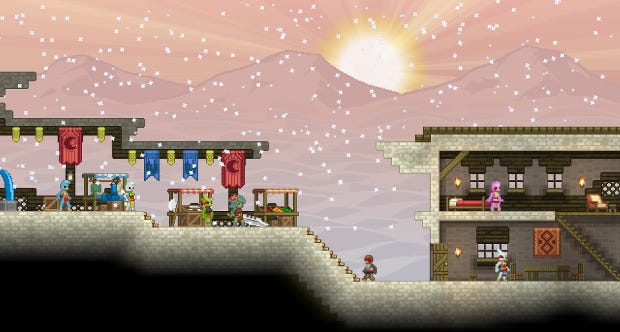 I had a Starbound character once. His name was Sir Face (named after the Microsoft Surface I was playing on at the time; it's a long story), and he was a mohawk-sporting robot who punched bird people, stole their super cool altar beds, and did not give one single, solitary fuck. But he's gone now. Forever. Beta tests are harsh, uncaring things, and I knew that Sir Face and I wouldn't be able to dance among the stars (and also mine them hollow) forever. I still miss him, though - at least insofar as one can miss a walking trophy case for their videogame accomplishments. Fortunately, as of now I'll never have to grieve for another Starbound character again, and neither will you. The game's latest update should be the last one heralded by a character, ship, and planet wipe. Also, it adds crazy new enemy attacks, a permadeath option, new items, new biomes, and tons more. But oh man, characters don't eat bandages anymore! I liked eating bandages.
Other biggies: player-owned items are now persistent in the game world, so no more disappearing picks, meticulously crafted items, or what have you. Oh, and Christmas items are gone, deflating my theory that Starbound takes place in a universe of Eternal Christmas. Bummer.
Here's the full (and massive) changelog, per the gnarled fingertips of Chucklefish's changelog monkeys:
Code Changes:

Absolutely massive changes to disk serialization (sorry reversers), which will allow us to never need to wipe players or ships again, and hopefully never need to wipe worlds again.
Related, we now have a proper versioning system for save files.
Added difficulty levels and permadeath characters to the game.
Packed assets into databases (speeds up startup significantly), and included asset packing and unpacking utilities with the distribution.
This should also allow for easier distribution of mods, and easier construction and management of slimmed down distributions for dedicated servers (official server paks coming soon.)
Fix some graphical glitches with the wire nodes.
Fixed some pretty nasty deadlocking bugs with networking.
Fixed some very strange memory leak bugs stemming from a gcc lambda capture bug.
Fixed various crash bugs related to a number of different issues (more specifics listed in "Info About the Upcoming Patch"– thanks for the bug reports, keep em coming)
Speed up improvements with falling sand and other projectiles.
More efficient databases storage layout.
Documentation for lua functions have been written, and we're going to release them soonish.
Removed NaN floats from the code for performance reasons (reenabled -ffinite-math-only), we had been using them to signal that the float is disabled or in an invalid state, but we have a system for that now.
Some internal changes that make maintaining code much happier for us, including better enum to string handling and much faster compiles.
Other minor things, too numerous to list here (see "Info About the Upcoming Patch").

Fun Changes:

It's no longer the holiday, so we've removed the holiday stuff for now, we'll put them back when we have a better way of enabling it for holiday time.
PVP is now forced enabled within Sector X. If you're in a party there's no team damage though.
All player drops are persistent now. So if you accidentally throw your diamond drill down a mineshaft, you don't have to suicide trying to get it back before it disappears.
New Monster attacks (gravity slam! gust attacks! other stuff!)
Fixed Legendary Weapons damage (adjusted up to be more… well… Legendary.)
We've put in new Techs (such as a Glitch Mech).
New biome type enabled. Savannah.
Boss Lore!
No more eating bandages and stims, they have their own thing now.
Better, more featureful .abc file support, and we have Wanderlust music in the game now. (Thanks Leth and D2!)
Made NPC chatter more configurable and slightly more varied.
Added new objects (such as lava biome treasure chests).
Added new items (like nightsticks and bonesaws).
Sword swooshes are only active for 0.6 seconds instead of 0.9 seconds.
Making cooldown times actually matter without slowing down combat. Also fine tuned their hitboxes.
Viking helmet? Viking helmet.
Watch out for landmines.
Various changes to treasure drop pools (like Avian Guards actually dropping their guns…)
Minor tweaks to existing armors to make them look better.
Medieval Furnace now actually acts like a Furnace. (Rejoice).
Graphical upgrades to some existing plants, and new plants.
Lots more secret stuff! :OOO
That is a lot of things. I'm glad that "sword swoosh" is a technical term. And Avian Guards finally drop guns. Hallelujah!
The patch is out now. What changes are you most excited about?