Steep adds Alaska in free update today
Steep steep down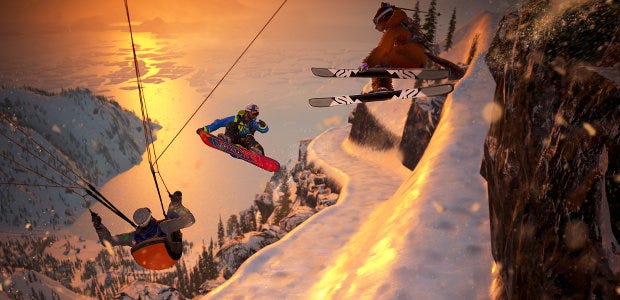 I have written a topical joke:
A: Which region is Ianthe Ubisoft adding to Steep [official site] in a free update today?
B: I'll ask her.
A: Don't worry, Alaska myself.
While B did not know, the answer is: Alaska. The open-world snowsports 'em up today adds a chunk of virtual Alaska which Ubisoft say is about the size of its Alps region - doubling the snowspace. Nice. Have a look in this trailer:
Goodness me, some of those mountains look brutal.
Here's what Ubisoft say to expect:
"Travel from the Alps to the other side of the world where you'll experience an array of environments, from glistening seas and plunging cliffs to lumberyards and seaside towns.

"With as many kilometers/miles to explore and ride as the Alps, the Steep Alaska update includes 21 new Challenges, 2 Invitationals and 1 Mountain Story that immerses you in the lore of the highest peak in North America, Mount Denali."
Today's update also raises the level cap from 25 to 30, adds American cosmetic clobber, pops in new challenges, fixes bugs, and more. Check the patch notes for the lot.
That all sounds and looks nice but Wot Brendan Thought is that Steep's real problem was controls, not content. If you've been snowing yourself, what have you made of it?