Steep expansion carves path to 2018 Winter Olympics
Going downhill fast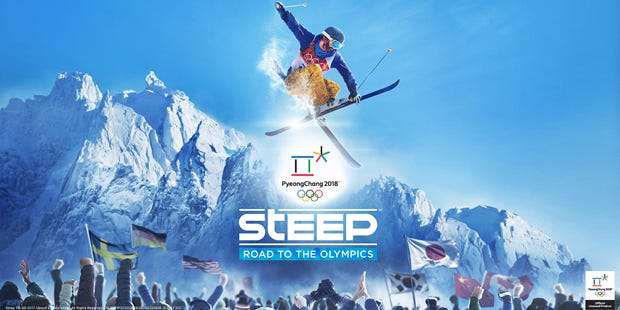 Imagine a world in which Steep [official site] was a game about brewing tea. Instead of racing down snowy peaks you'd be keeping an anxious watch over a set of mugs, trying to gauge the strength of a brew and serving it to a visitor's specifications. Harder levels would feature darker mugs making it hard to tell whether you'd got a tincture on your hands or something so full of tannins your cheeks would pucker at the bitterness.
What a world that would be. In THIS reality, however, Steep is about snowsports which means a Winter Olympics-themed event was an obvious candidate for an expansion. Swaddle up for the announcement trailer:
OH MY GOD THEY USED WARRIORS BY IMAGINE DRAGONS! It was confusing enough when that cropped up in a Wonder Woman trailer and I was trying to work out when she competed in the League of Legends World Championships, but now it's being used to pimp out other games? THIS WILL NOT STAND.
Steep: Road to the Olympics will be arriving on 5 December, so a few months ahead of the 2018 Winter Olympics which are being held in PyeongChang, South Korea in February. As per the official announcement:
"It wouldn't be the Olympics without official Olympic events, so the expansion will include Downhill, Slopestyle, Halfpipe, Giant Slalom, Super G, and Big Air. There will also be some unique challenges to keep things fresh as you choose a country to represent and test your skills against players around the world. And for those thirsty for the legendary powder of Japan, there will be plenty of space to find your own lines, set challenges for your friends, record your highlights, and share them with the Steep community."
FROM DUST.