Snow joke: Steep now preloading for open beta weekend
Grab your lift pass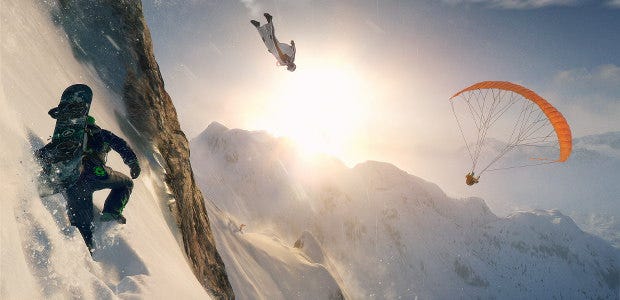 If you, like me, fancy hitting the slopes this weekend in the free open beta test for Ubisoft's open-world xXtremewintersportsXx 'em up Steep [official site], fire up Uplay today. The beta doesn't begin until Friday but you can now preload the game, which is handy as it's a 19GB download. If that sounds big to you, hey, consider how big the Alps are. You could hardly take them home with you on the bus, could you?
Steep is a snowsports game combining the usual skiing and snowboarding with some less conventional deathtrips, like wingsuiting and paragliding. It's set in an open, shared world, with all sorts of races and things going on if you want or you can simply going a-exploring. Here's what Ubi have said is in the beta:
"The Open Beta will allow players to discover the diversity of Steep's world by exploring, riding and completing dozens of challenges through three of the seven regions composing Steep's massive open world inspired from the Alps – the Aravis, the Tyrol and the Needles. Players will also find nine Mountain Stories – narrative-based challenges that will delve deeper into unique moments in the world of Steep – throughout their journey. Completing these challenges and Mountain Stories will also unlock new gear for players to customize their characters."
The open beta will run from Friday, November 18th through to Monday, November 21st. The full game is due to launch on December 2nd.