Biff! Bam! Tekken 7 Coming To PC In 2017
A biffy trailer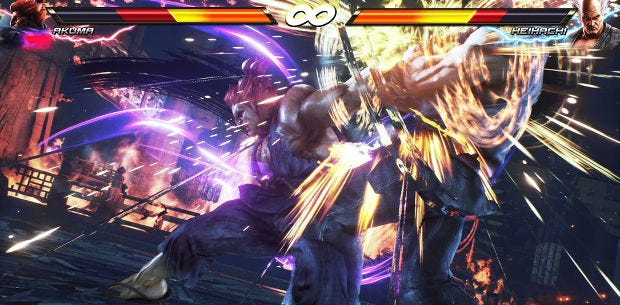 Not wanting to be out-done by the squillions of fighting games flexing, squatting, and jostling on PC nowadays, Tekken is coming our way too. Bandai Namco today announced that their latest manbiffer is coming from arcades to Windows in "early 2017", all jazzed up with extra biffybits. Also way more drama than I was expecting, going by the E3 trailer showing a Street Fighter man who's a little lost:
Tekken 7 has been in arcades for over a year, but the game coming to PC is a bit bigger than that. As Bandai Namco say:
"For its debut appearance on home videogame systems, Tekken 7 will feature numerous modes and enhancements taking it beyond its arcade counterpart, including an in-depth Story Mode that draws players deeper into the TEKKEN canon storyline. For the first time outside of arcades, players will be able to select new fighters for battle, including; Kazumi Mishima, Claudio, Josie, Shaheen, Katarina, Lucky Chloe, Gigas, and more."
Tekken 7 is due on PC via Steam in "early 2017".
Do check out the rest of our E3 2016 posts, previews, odds, ends, and gubbins.