Terror On Tyria: Guild Wars 2 Halloween Event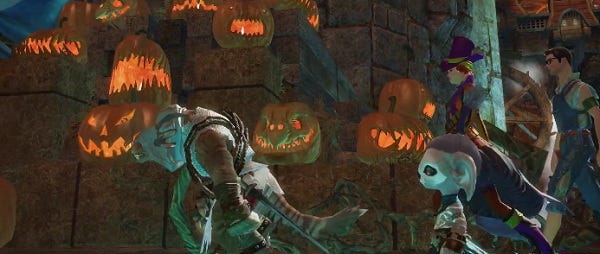 The Shadow of the Mad King begins to crawl across Guild Wars 2 today, carrying folktales, fear and pumpkins in its umbrage. It's an event in four acts, with the final one beginning on Halloween and ending the next day. The concept art is beautiful, the story is suitably spooky in a daft sort of way, and now there's a trailer full of whimsy and bubbling cauldrons. You can watch that below, as well as historical footage of the only undead king to ever haunt my sleep. Veeeengeaaance.
Along with all the Halloween trappings and new content, the update also adds The Ghost of Esports Future, with 5v5 tournaments that have entry fees and rewards.
Back to the Mad King though. Here's the background story in prose form.
500 years ago, a tyrannical Krytan king was slain by his own people, those who had suffered greatly during his reign of lunacy. It is said that this king's body was chopped into pieces, and his spirit was banished to the Underworld, but that he can return to the mortal realm for just one day a year: on Halloween.

Of course, that's just an old folktale. Isn't it?

Strange energies are rising under the autumn moon. Is there perhaps some truth to the old stories? Do you dare to find out what's really going on?
Chopped into pieces, eh? I hope when he returns to the mortal realm he's still in bits. Worst boss fight ever - a party of adventurers stamping on several hunks of what looks very much like corned beef hash lying next to a crown.
Now for some Lysandus.