Thanks, Killbane! Saints Row 3 Gets Serious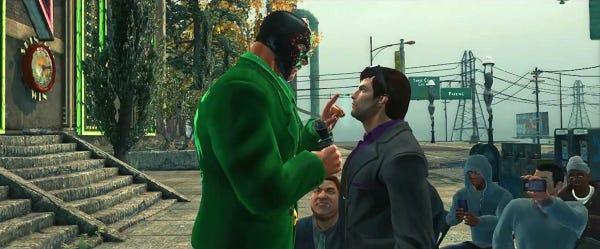 Let's kick off the day with a fresh look at Saints Row: The Third. There's not a huge dose of the series' trademark silliness on display here, but I suppose they've got to try and sell the game to stern-faced grumpy gamers, without a taste for the absurd, too. I do enjoy how the camera wobbles during the fisticuffs, and I'm looking forwards to having a lot of fun in that VTOL plane. Trailer go:
It's due out on the 15th of November, and maybe it won't be a rubbish port this time around! The second game is currently available for a bit of spare change over at GamersGate. Careful though, it (optionally) registers on Steam, but it seems that you'll get the censored German version if you download it from Steam (and the censored version isn't compatible with many of the mods and/or fixes), and the GamersGate version doesn't have the latest patch available for it. Bit of a mess, that. More details here & here.